Elegance
The Harper's Voice
Anna O'Connell,
baroque & Celtic harps, soprano
with Carrie Krause & Emi Tanabe, violin
Kathie Stewart, baroque & Irish flute
René Schiffer, viola da gamba
Tina Bergmann, hammered dulcimer
Luke Conklin, harp and recorder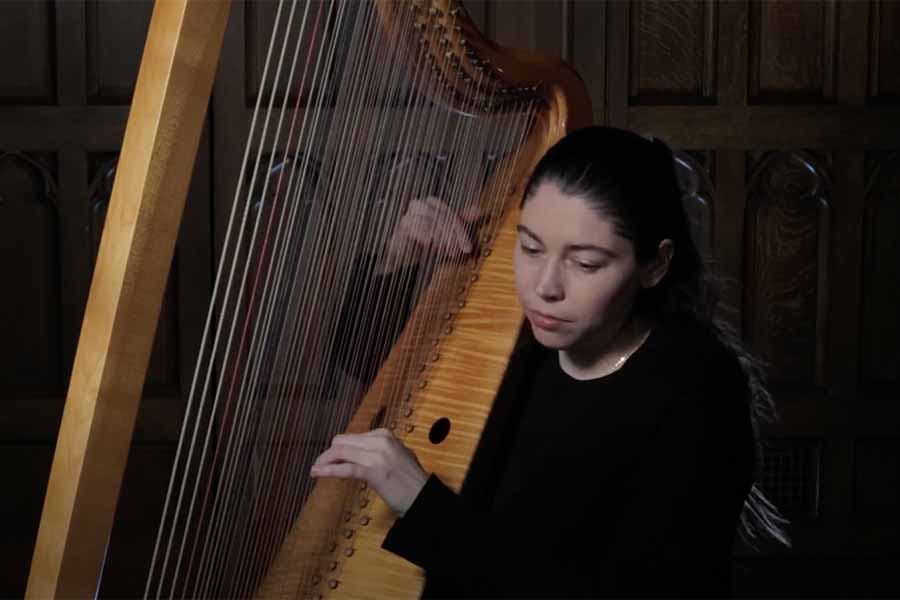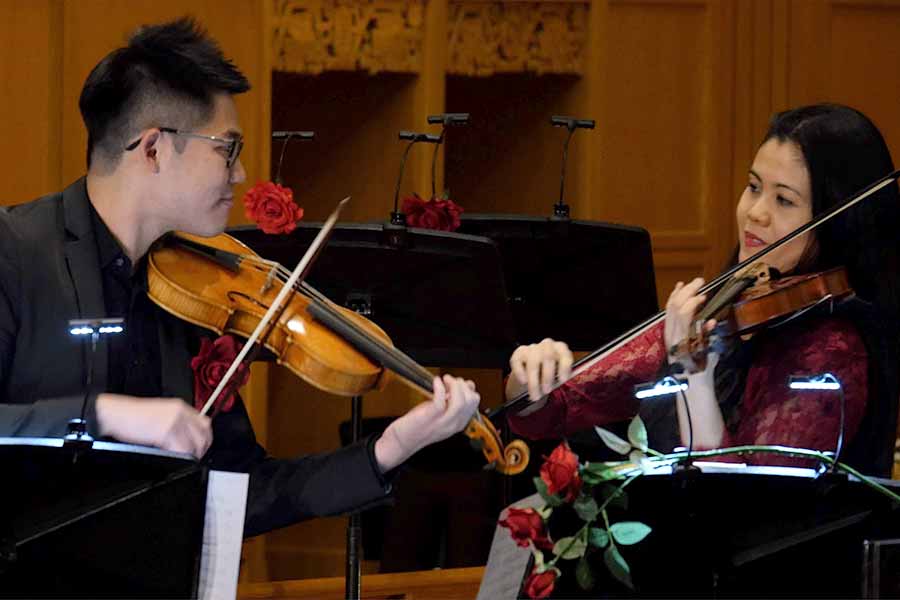 The harp was the voice of the marginalized peoples of the British Isles – Irish, Welsh, and Scots. Ireland's legendary blind harper, Turlough O'Carolan, was one of several great harpers of the 17th and 18th centuries. Today's young harpist troubadour, Anna O'Connell, sings and accompanies herself on the harp in the manner of the old Celtic harpists. Six Apollo's Fire musicians on violins, flute, cello, hammered dulcimer, and lutes join Anna in sparkling music by O'Carolan, Dowland, and Purcell, along with Scottish and Irish folk songs.
Full concert video now available!
Your video ticket allows you to watch both the Concert and the Pre-Concert Talk anytime for 30 days.
Save more money by purchasing a Mini-subscription! (3 or more concert videos)
PLEASE NOTE: if you choose to "cast" the video to your TV without using the Vimeo app, the sound quality may suffer. You may find that the volume is low or the sound is distorted. By using the Vimeo app, you can be sure that the sound quality will be excellent.
---
Hear the Music
The Duke of Norfolk, from Playford's "Division Violin"
Veronika Skuplik & Andreas Arend | Silk & Tweed


PURCELL Shepherd, leave decoying
Trevor Pinnock & The English Concert | Purcell: Dido & Aeneas / King Arthur / Dioclesian / Timon of Athens / 3 Odes


O'Carolan's Favorite Jig
Jeannette Sorrell & Apollo's Fire | Sacrum Mysterium

---
Watch Video
---
Meet the Artists
CARRIE KRAUSE, violin,
has performed extensively across the U.S. with early music groups including Chatham Baroque, New York State Baroque, Portland Baroque, Passamezzo Moderno, Baroque Chamber Orchestra of Colorado, Clarion, Pacific Baroque, New Trinity Baroque, and as visiting Artistic Director of Seattle Baroque. She has also performed as a soloist with Juilliard 415 in Jordan Hall, Alice Tully Hall, Duke's Hall, and the Thomaskirche. As a modern player, she serves as Concertmaster of the Bozeman Symphony and has performed as a soloist with the Fairbanks, Casper, Bozeman, and Billings Symphonies, and String Orchestra of the Rockies. She is Artistic Director of Baroque Music Montana and the Period Performance Workshop, and teaches a large studio of award-winning students. She holds degrees in violin performance from Carnegie Mellon University, the Cleveland Institute of Music, and The Juilliard School.
EMI TANABE, violin, holds a Professional Diploma from Roosevelt University and a Master's degree in music from the University of North Texas. She is an adjunct faculty at Benedictine University in Chicago, IL. Emi enjoys multifaceted career; she performs not only with Baroque ensembles but performs with Jazz/Latin groups, world music groups, Cirque du Soleil type of dinner shows and more.
KATHIE STEWART, wooden flutes, is a founding member and principal flutist of Apollo's Fire. A faculty member at the Cleveland Institute of Music, she is also a Kulas Visiting Artist at CWRU, and former Curator of Harpsichords at the Oberlin Conservatory where she taught baroque flute for nearly twenty years. She is an avid proponent of Celtic music, playing Irish flute on several recordings from Apollo's Fire. She has performed with the Cleveland Orchestra, Tafelmusik, The Four Nations Ensemble, Oberlin Baroque Ensemble, ARTEK, and the Bach Sinfonia in Washington, D.C. and is the Assistant Director of the Seattle Baroque Flute Workshop.
BRIAN KAY, vocals, lute, theorbo, is a modern-day troubadour. He is the first Artistic Leadership Fellow of Apollo's Fire and in 2019, won a Grammy® Award for his work on the CD Songs of Orpheus. He has performed throughout the world at venues such as the National Concert Hall of Dublin, Belfast Castle (Ireland), Carnegie Hall, and the Kennedy Center. His live radio appearances include NPR, WYPR and 98ROCK (Baltimore), WGBH (Boston), and WCLV (Cleveland). He has recorded for AVIE and Sono Luminus labels, and has been heard on more than ten album releases. He is a multi-instrumentalist, songwriter, arranger, traditional and historical music specialist, poet, and painter.
RENÉ SCHIFFER, cello & viola da gamba, is praised for his "interpretive imagination and patrician command of the cello" (THE CLEVELAND PLAIN DEALER). He is a native of Holland where he was a protégé of Anner Bijlsma. He later studied baroque cello with Jaap ter Linden and viola da gamba with Catharina Meints. As a member of Sigiswald Kuijken's La Petite Bande for sixteen years, he toured four continents and appeared many times on European television. He has also performed with the Amsterdam Baroque Orchestra, Les Musiciens du Louvre, and in over forty projects with Tafelmusik of Toronto. As a concerto soloist, he has appeared throughout North America and Europe, and can be heard on acclaimed CD recordings of the Vivaldi Concerto for Two Cellos and the Tango Concerto for Two Gambas (his own composition) on British label AVIE. He can be heard on more than forty CD recordings, on the Harmonia Mundi, Philips, Virgin Classics, Erato, Sony, and AVIE labels. He serves on the faculty of the Cleveland Institute of Music as Teacher of Baroque Cello, and has given masterclasses and coachings for the New World Symphony (Miami), the University of Michigan, Oberlin Conservatory, and Cincinnati College-Conservatory.
LUKE CONKLIN, Celtic harp, wooden flutes, was a member of the first class of historical performers at the Juilliard School, and earned his doctorate in Historical Performance from Case Western Reserve University. He has performed with Portland Baroque, The American Bach Soloists, Trinity Wall Street Baroque Orchestra, Clarion Music Society, and many others. He maintains a small teaching studio in Kalamazoo, Michigan. In addition to performing Early Music on many instruments, he also plays Irish and Scottish flute and harp.
TINA BERGMANN, hammered dulcimer, was hailed by Pete Seeger as "the best hammered dulcimer player I've heard in my life." A fourth-generation musician, Bergmann began playing music at age eight, learning the mountain dulcimer from her mother in the aural tradition and learning the hammered dulcimer at the knee of West Virginia-native builder and performer Loy Swiger. Demonstrating gifts for both performance and teaching, she has been a featured performer across the United States, performing solo; as a duo with her husband, bassist Bryan Thomas; with her stringband Hu$hmoney; and as a featured soloist with Apollo's Fire and Canadian early music group, La Nef.

Antoine Hebert. "La musique". Musée des Beaux-Arts de la Ville de Paris, Petit Palais.