Apollo's Fire

An International Baroque Orchestra at Home in Northeast Ohio
Performing on historical instruments, Apollo's Fire brings to life the music of the past for audiences of today, with

Passion.

Period.
Now a GRAMMY®-winning orchestra, Apollo's Fire has performed sold-out concerts at Carnegie Hall, the BBC Proms, the Royal Theatre of Madrid, the Tanglewood Festival, the Metropolitan Museum of Art… and more! But what Apollo's Fire musicians love most is bringing world-class performances to your doorstep – in a continuous "tour" of Northeast Ohio neighborhoods.
Founding Artistic Director Jeannette Sorrell is praised for her "inspired leadership" (THE INDEPENDENT, London) and "revelatory performances" (OPERA NEWS). Apollo's Fire is dedicated to reviving the true spirit of baroque performances – not only with period instruments, but with the emotional impact the music was meant to convey.
Come and see why Apollo's Fire has one of the three largest baroque audiences in the country!
See AF's full bio below.
---
FROM THE PRESS
"First rate… rendered with consummate skill and artistry…"
–NEW YORK TIMES

"Electrified and sparkling.
If this concert didn't shake your rafters, then nothing will."
–SARASOTA HERALD TRIBUNE

"Revelatory and convivially theatrical… first class"
–BBC MUSIC MAGAZINE

"This was as exciting as Baroque music gets….
a barnstorming conclusion to an arresting musical evening."
–CHICAGO CLASSICAL REVIEW

"Dramatic tautness tempered by musical finesse and elegant refinement."
–GRAMOPHONE
---
APOLLO'S FIRE
Named for the ancient god of music, healing and the sun, Apollo's Fire is a GRAMMY®-winning ensemble. The period-instrument orchestra was founded by award-winning harpsichordist and conductor Jeannette Sorrell. Dedicated to the baroque ideal that music should evoke the various Affekts or passions in the listeners, Apollo's Fire brings to life the music of the past for audiences of today, with Passion. Period. The Apollo's Fire musicians are creative artists who share Sorrell's passion for drama and rhetoric.
In Europe and the UK, Apollo's Fire has performed 6 tours including sold-out concerts at the BBC Proms in London, the Aldeburgh Festival (UK), Madrid's Royal Theatre, St. Martin-in-the-Fields, and Bordeaux's Grand Théàtre de l'Opéra; with concerts at Heidelberg Spring Festival, the Irish National Concert Hall (Dublin), the Irish National Opera House (Wexford), and venues in Germany, France, Italy, Austria, and Portugal. The ensemble has had many live radio broadcasts across Europe. AF's London 2014 concert was chosen by the DAILY TELEGRAPH as one of the "Best 5 Classical Concerts of the Year," with their critic writing, "An evening of superlative music-making… the group combines European stylishness with American entrepreneurialism."
North American tour engagements include Carnegie Hall (2018 and 2022), the Tanglewood Festival (2015, 2017, and 2021), the Ravinia Festival (4 times), the Metropolitan Museum of Art in NY (numerous times), the Boston Early Music Festival series, the Library of Congress, the Aspen Music Festival, Caramoor Festival, and major venues in Toronto, Los Angeles and San Francisco. In 2021, Apollo's Singers made their debut with the New York Philharmonic under the baton of Jeannette Sorrell, winning rave reviews – with a return engagement upcoming in 2023.
At home in Cleveland and Chicago, Apollo's Fire frequently enjoys sold-out performances at its subscription series, which has drawn national attention for creative programming.
With nearly 14 million views (total) of its YouTube videos, Apollo's Fire is one of the most popular baroque orchestras on the worldwide internet. The ensemble also launched a "Worldwide Watch-at-Home Series" in 2020, bringing its subscription concerts into the homes of patrons around the world.
Apollo's Fire has released 30 commercial CDs and won a GRAMMY® award in 2019 for the album Songs of Orpheus with tenor Karim Sulayman. AF's recordings of the Bach St. John Passion, Vivaldi's Four Seasons, and the Monteverdi Vespers have been chosen as best in the field by the Sunday Times of London (2020 and 2021) and BBC Magazine (2022). Eleven of the ensemble's CD releases have become best-sellers on the classical Billboard chart, including Vivaldi's Four Seasons (Billboard Classical #2, 2021), the Monteverdi Vespers, Bach's Brandenburg Concertos & Harpsichord Concertos, a disc of Handel arias with soprano Amanda Forsythe titled "The Power of Love" (Billboard Classical #3, 2015), Songs of Orpheus (Billboard Classical #5, 2018), and five of Jeannette Sorrell's multicultural programs: Come to the River – An Early American Gathering (Billboard Classical #9, 2011); Sacrum Mysterium – A Celtic Christmas Vespers (Billboard Classical #11, 2012); Sugarloaf Mountain – An Appalachian Gathering (Billboard Classical #5, 2015); Sephardic Journey – Wanderings of the Spanish Jews (Billboard World Music Chart #2 and Billboard Classical #5, 2016); and Christmas on Sugarloaf Mountain (Billboard #3, 2018).
Download AF's Bio (July 2023 – long & short versions included) PDF | DOC
PLEASE DO NOT EDIT THESE BIOS. If neither of these 2 lengths fits your needs, please contact Apollo's Fire to obtain an alternate version.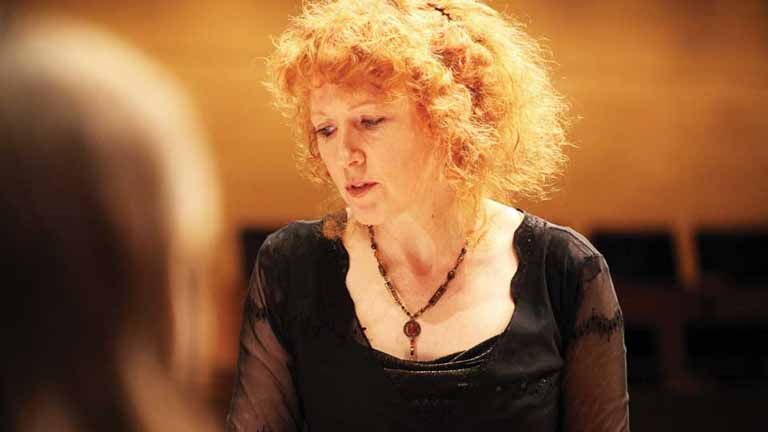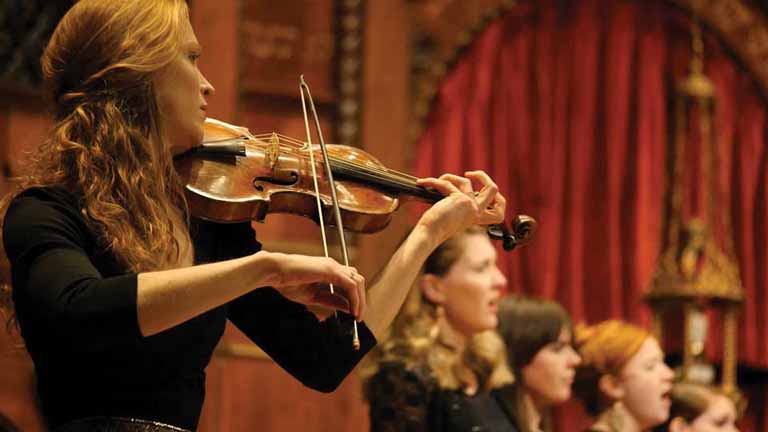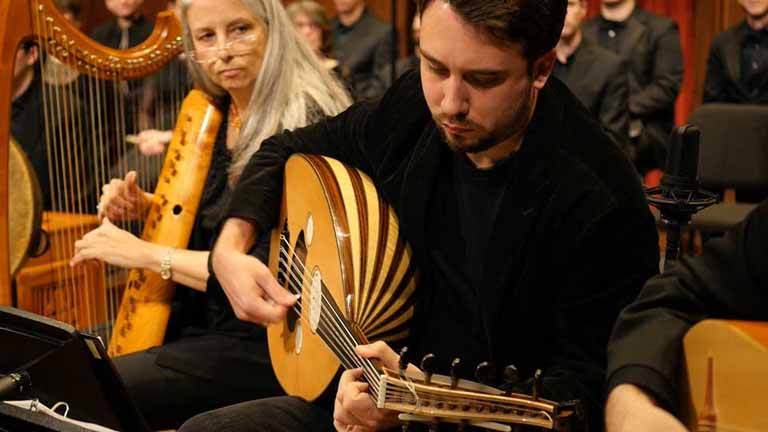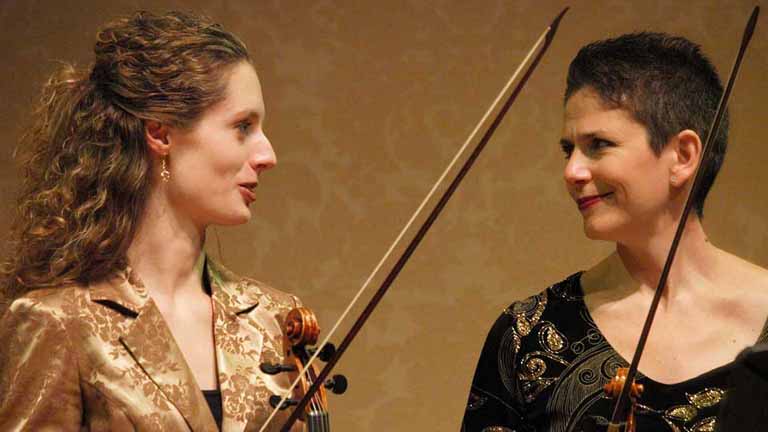 Artistic Philosophy
Music is a form of communication – a language that resonates with people in an emotional and spiritual way, touching people in a way that words cannot. The treatises from the 17th and 18th centuries all talk about "Affekt" – the emotional character of the music. The performer's role was to evoke a particular Affekt or emotional state in the listeners – whether that be joy or contemplation or rage or despair or triumph. The baroque performer used every possible means to cast his emotional spell on the audience – rhetoric, gesture, harmony. Apollo's Fire is a collection of artists who believe passionately that our job is to communicate – to take the listeners with us on an emotional journey. If, at the end of two hours, the audience is moved to tears, or joy, or laughter, or prayer, then we have done a good night's work.
"The U.S.A.'s hottest baroque band."
–CLASSICAL MUSIC MAGAZINE
"Led by a brilliant harpsichordist, Jeannette Sorrell, the ensemble exudes stylish energy – a blend of scholarship and visceral intensity."
–GRAMOPHONE
"Sorrell and her dazzling period band… are incandescent."
–THE SUNDAY TIMES, London