Young Artist Apprentice Program
"Occasions when the Young Artists have appeared with the ensemble…have been highly transformative, the rarest of rare opportunities to not only sit amongst professional musicians but also to employ early-music performance and tuning techniques."
–THE CLEVELAND PLAIN DEALER
AF believes passionately in nurturing the next generation of music appreciators and professional early music performers. Since 2002, Jeannette Sorrell and her principal players have helped to train future Apollo's Fire musicians by working with advanced conservatory students, sharing AF's particular style and approach to baroque music. With a track-record of nearly 20 years, AF's Young Artist alumni have now become the leading up-and-coming young professionals of the national early music scene.
Approximately 2-4 outstanding, pre-professional students from Oberlin Conservatory, CIM, and CWRU are hand-picked by Ms. Sorrell for a 2- to 4-year apprenticeship. These students gain the invaluable experience of playing with AF in rehearsals, concerts, and occasionally on tour and in recording sessions. Under the guidance of Sorrell and AF principal players, these emerging talents immerse themselves in the musical and also the promotional/presentational elements necessary to build a career in early music.
"Refreshingly casual and unusually tight thematically, the program is the antidote to the musical doldrums… Titled "Family Frolic," the concert fully lives up to its name… vividness and theatricality rare on any stage. To such sparkling performances by AF director Jeannette Sorrell and a handful of AF principals and apprentices, one could have listened happily for ages."
-THE CLEVELAND PLAIN DEALER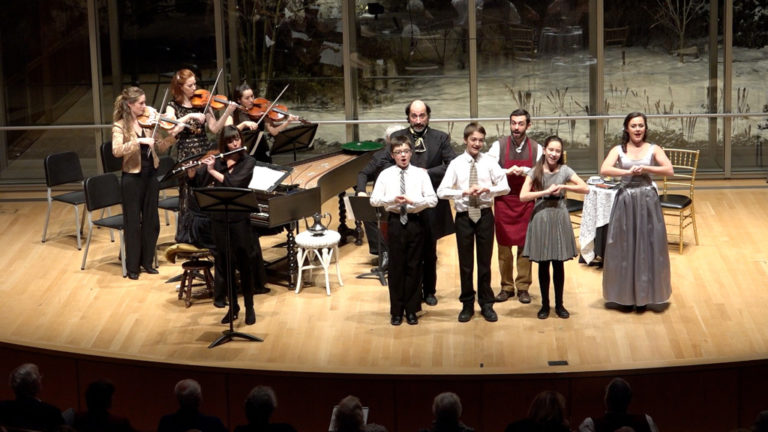 Multi-generational performance of Bach's Coffee Cantata,
featuring AF principal players, Young Artist Apprentices and Musettes.
The program developed out of Jeannette Sorrell's desire to bridge the gap for talented students on the verge of professional careers. Having worked extensively with students in Oberlin Conservatory's Baroque Orchestra, Sorrell observed that the most advanced baroque students reach a kind of plateau in their development.
"When I started leading the Oberlin Baroque Orchestra several years ago," Sorrell said, "I realized that these students needed an experience that no conservatory can provide – the experience of being the only student in a string section where the other players all share a unified approach to style and intonation. Without this even the most talented students have to make an enormous leap to win a spot in a professional baroque orchestra."
To date, about 16 Apprentices have passed through the program. Former apprentices who are now professional period specialists include violinists Johanna Novom, Adriane Post, Beth Wenstrom, Evan Few and Carrie Krause, Tanya Chulochnikova, cellist Rachel Henderson, and violist Karina Schmitz.  Emerging AF apprentice alumni, at the start of their professional careers, include choral conductor/soprano Abi Clark, violinists Augusta McKay Lodge and Matthew Santana, violist Cynthia Black, cellist David Ellis, and soprano Madeline Healey, who made her solo debut at the Kennedy Center in spring 2014 and was praised for her "gorgeous singing" by the Washington Post.
Highlights – Past Apprentices
In 2016-2017, six new Apprentices joined Apollo's Fire. Five of them performed side-by-side with AF core musicians in performances of Beethoven the Revolutionary in April. Four of the Apprentices also performed a program of Italian chamber music in the spring, presented in Cleveland Heights and Hudson. In addition, Apprentice violinist Alan Choo made his solo debut with AF, performing Vivaldi's Spring Concerto at the Tanglewood and Ravinia Festivals as well as local concerts. Congratulations to Alan for these wildly successful solo debut concerts!
Congratulations to AF's former Musette and former Young Artist Apprentice, violinist Augusta McKay Lodge! Augusta has won a job with the prestigious French baroque orchestra, Les Arts Florissants, directed by William Christie. She is moving to Paris!
In 2015, the apprentices were featured as soloists on AF's subscription series in a theatrical program about Bach's family, titled "Bach Family Frolic: A Multi-Generational Music Party." Designed by Jeannette Sorrell, the program featured a staged performance of J.S. Bach's Coffee Cantata in Sorrell's zany English translation. The project featured the Young Artist Apprentices as soloists but also placed them side-by-side with AF's veteran principal musicians and a seasoned AF guest artist who played the role of the Papa. Performed at 3 venues including the Cleveland Institute of Music, the program won rave reviews in the Plain Dealer and ClevelandClassical.com.
A 3-part video of the performance at CIM can be found at this link:
Part 1 features primarily the Apprentices.
Part 2 features Madeline Healey as the rebellious daughter and guest artist Jeffrey Strauss as the frustrated Papa.
Part 3 is the Finale including all Apprentices and 3 Musettes.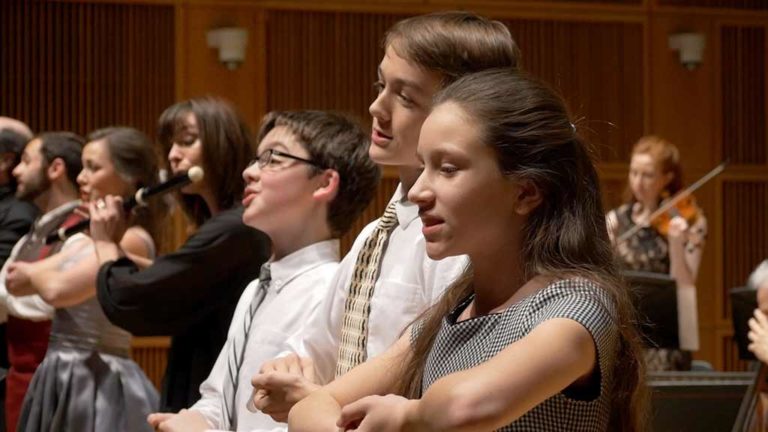 "The concert… featured the talented members of the ensemble's Young Artist Apprentice Program performing alongside AF regulars, with a special appearance by three even younger members of Apollo's Musettes. The evening culminated in a cleverly staged performance of Johann Sebastian's amusing 'Coffee Cantata.' Jeffrey Strauss perfectly captured the personality of Schlendrian — bumbling and at his wits' end — singing with excellent diction and a fine sense of comedy.
Madeline Healey's strong, clear voice and supple delivery beautifully suited the frequently ornate music Bach wrote for [teenage coffee-addict] Lieschen, and her acting fit the character of a dizzy daughter like a glove. Sorrell's imaginative staging brought the instrumental ensemble into the action and sometimes coyly made good fun of itself."
-CLEVELANDCLASSICAL.COM
In 2014, AF showcased the Apprentices for the first time in concerts of their own, presented in Chagrin Falls and Cleveland Heights. Their concert was the subject of an enthusiastic preview article by Zach Lewis of the Plain Dealer.
---
For further information on the Young Artist Apprentice Program, contact Edward Vogel at 216.320.0012 or evogel@apollosfire.org.