Catch Noah at Nighttown – An Evening of Conversation, Bach & Klezmer!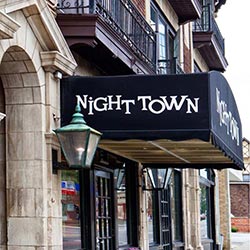 The young Noah Bendix-Balgley grew up playing Klezmer music in Appalachia, and is now the first American concertmaster of the Berlin Philharmonic. How did this happen? Meet Noah in an evening of conversation and music at Nighttown, where he will talk about the influences on his life and music, and will perform Bach and Klezmer music. In addition to his role as concertmaster, Noah has performed with world-renowned klezmer groups such as Brave Old World, and has taught klezmer violin at workshops in Europe and in the United States.
Tickets $25 (cover charge) through Apollo's Fire.
Food & drink available for purchase.
[box border="full"]Don't miss Noah's debut with Apollo's Fire, playing the Beethoven Violin Concerto!
Program includes Beethoven's Symphony no. 5
April 27-30 in Cleveland, Akron, and Bay Village
More info: "Beethoven The Revolutionary" [/box]
Wednesday, April 26, 2017, 7:30PM
Nighttown, CLEVELAND HEIGHTS