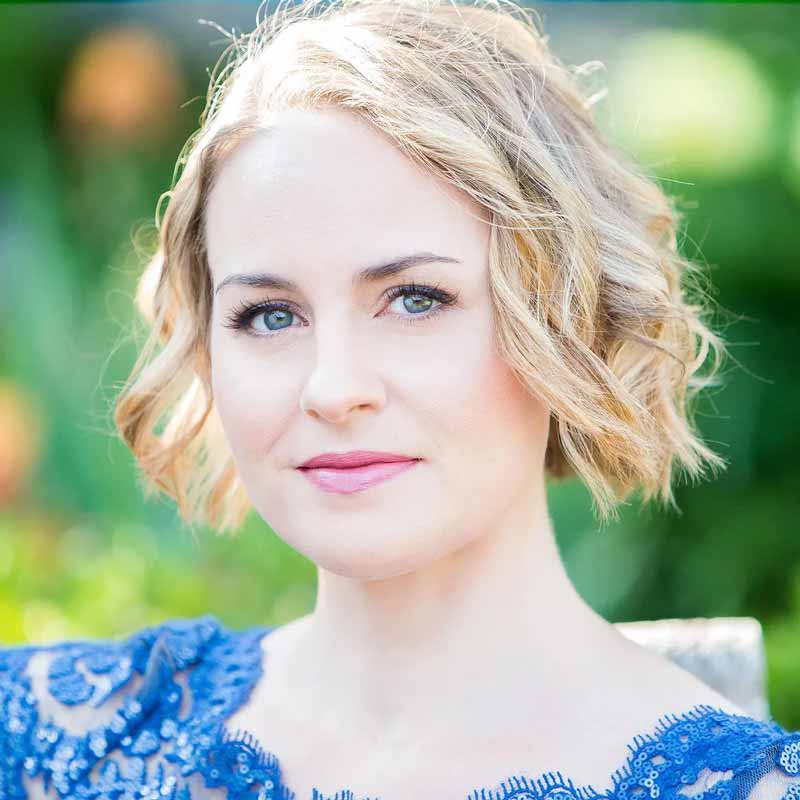 Recognized for her "velvety legato and embracing warmth of sound" (Washington Classical Review) and "lyric-mezzo of uncommon beauty" (The Washington Post,) mezzo soprano Kristen Dubenion-Smith enjoys an active performing career in oratorio and sacred vocal chamber music, specializing in music of the medieval, renaissance and baroque eras.
As a concert soloist, Kristen has earned recognition for her performances of the works of the high baroque, especially Bach and Handel. Her " lyric-Mezzo of uncommon beauty" (The Washington Post) was praised following her December 2019 performance as Alto Soloist in Bach's Christmas Oratorio with The Washington Bach Consort. Highlights from recent seasons include Handel's Israel in Egypt with the Washington National Cathedral Baroque Orchestra and Bach's St. John Passion with The Dryden Ensemble. In previous seasons, she has appeared as Alto Soloist in works such as Handel's Messiah, Monteverdi's Vespers of 1610, Praetorius' Christmas Vespers and Mozart's Requiem among others, with ensembles including Apollo's Fire, Handel Choir of Baltimore, Opera Lafayette, The New Dominion Chorale, The Folger Consort, and Chatham Baroque. In the summer of 2019, Ms. Dubenion-Smith attended the American Bach Soloists Academy where she was featured in Bach's Trauerode and Mass in B Minor. She is also a 2020 (transferred to 2022 due to the pandemic) Virginia Best Adams Fellow with the Carmel Bach Festival.
Starting in the fall of 2016, Ms. Dubenion-Smith joined the Choir of Men and Boys/Girls at the Washington National Cathedral as the first woman to be offered a position in this choir. She had previously served as cantor since 2011. In her time with the Cathedral Choir, she has sung for liturgies, commemorations, and events of national importance- most recently, the State Funerals of President George H. W. Bush and Senator John McCain, the internment of Matthew Shepard, the Presidential Inauguration Ceremony and Prayer Service, and the 9/11 services at The John F. Kennedy Center for the Performing Arts.
As a professional choral singer, Ms. Dubenion-Smith performs regularly with Cathedra, Chantry, The Washington Bach Consort and the Grammy Nominated, NYC based, Clarion Choir. She also sings on the 2021 Grammy winning recording of The Prison by Ethel Smyth with The Experiential Choir and Orchestra. She can also be heard on commercial recordings with The Folger Consort, Apollo's Fire, Cathedra, and Via Veritate.
In 2010, Ms. Dubenion-Smith co-founded the award winning, Washington D.C. based Eya: Ensemble for Medieval Music. Eya has been presented at a number of distinguished venues and series including the Academy of Early Music, National Gallery of Art, The Music Center at Strathmore, Washington National Cathedral, Columbus Early Music, and Dumbarton Oaks, in addition to numerous colleges, universities, and concert series across the east coast. The ensemble has been featured on Voice of America Radio, Millennium of Music on NPR, and is the recipient of the 2013 Greater DC Choral Excellence Award for Best Specialty Group: Early Music as well as a 2015 nominee for Most Creative Programming and 2018 nominee for Best New Recording.
To keep busy during the pandemic, Ms. Dubenion-Smith started a weekly series on her YouTube channel entitled Social DistanSING. Despite specializing in early music, she spans many genres of music on her channel, featuring music by Dolly Parton, Claudio Monteverdi, Johann Sebastian Bach, Enya, Henry Purcell, the Beatles, Simon and Garfunkel, Benjamin Britten, Extreme, Hildegard von Bingen, Toto, Richard Einhorn, Elise Witt, and Frideric Handel as well as commissioned arrangements of hymns and popular music, specifically for her series, by dear friend and colleague, Carter Sligh.
Notable solo engagements for the 2021-2022 season include performances with The Johnstown Symphony (Handel's Messiah,) The Washington Bach Consort (Bach's BWV 188 and St. Matthew Passion,) Bach in Baltimore (Mendelssohn's Elijah,) and the Cathedral Choral Society (Smyth's Mass in G.)
Originally from Michigan, Ms. Dubenion-Smith attended Alma College (Bachelor of Music) before moving to Maryland to complete her studies at The Peabody Conservatory of Music (Master of Music) in Baltimore.