EXILE & RESILIENCE

Music of the Jewish and African Diasporas
A new program conceived & directed by Jeannette Sorrell
Polina Skovoroda Shepherd, soprano | Haitham Haidar, tenor | Jeffrey Strauss, baritone | Daphna Mor, recorder, ney, vocals | Merlin Shepherd, clarinet
with Apollo's Singers
On tour March 2023 (US) and April 2023 (UK & Europe):
Chicago – San Francisco – Palo Alto (Stanford University) – New York City (Metropolitan Museum of Art) – Heidelberg Spring Festival, GERMANY – St. Martin in the Fields, LONDON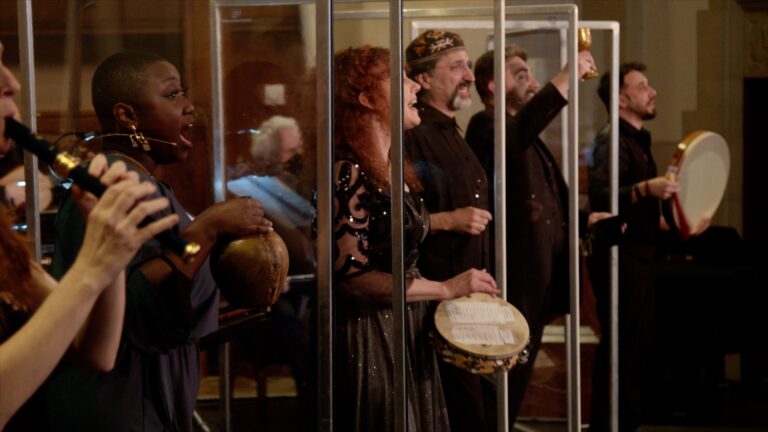 Though stolen from their homeland and scattered across the world, both the Jews and the Africans found strength and inspiration in music – their means to preserve their cultural identity and their soul as a people.
In this musical tour of the Jewish and African diasporas, Apollo's Fire explores the remarkable resilience of these enslaved peoples during 250 years, 1600-1850. Music by Jewish baroque composer Salamone Rossi and Jewish-inspired composer Benedetto Marcello is interwoven with the rhythms of life in the ghetto: songs, dances, and prayers from the Ashkenazi, Sephardic, and North African traditions. A company of 15-22 musicians – including Jewish, Palestinian, and African-American artists – raise their voices in longing and celebration.  
With optional projected images of period paintings, designed by Camilla Tassi.
"A voyage of faith for the 21st century… An ensemble at the peak of their powers, making vital statements about the world…"
– Seen & Heard International (Review of Apollo's Fire's related program, "O Jerusalem!")
Several of the pieces in this program may be heard and seen in the videos of our 2018 program, "O Jerusalem!" This program has also now become a hit CD album – listen here and read the reviews from BBC Magazine, the Daily Telegraph, and more.
---
VIDEOS
O Jerusalem! – Trailer/montage
Karen Yom (Hasidic Chant)
Oh Freedom! (African-American Spiritual)
O Jerusalem! – Ki Eshmera
---
LISTEN TO THE "O JERUSALEM!" ALBUM
Released February 16, 2022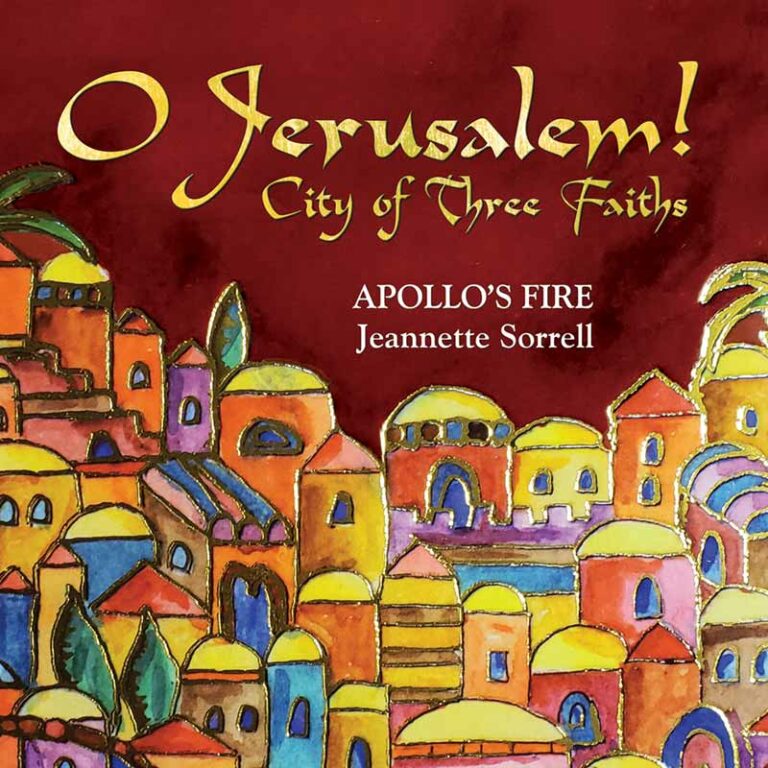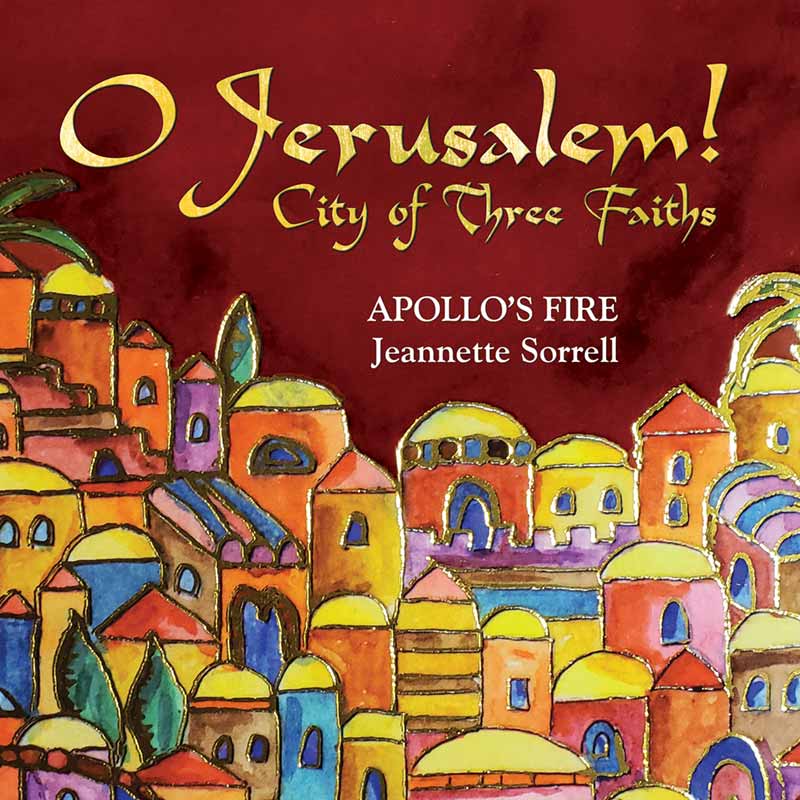 "Brims with energy and imagination… The disc is the brainchild of Jeannette Sorrell, who directs the celebrated period ensemble Apollo's Fire…. A highly atmospheric 'tour' of the city, with each quarter explored via a handful of intersecting musical vignettes. Sorrell combines the excellent Apollo's Fire with outstanding guest artists…. a mesmerising improvisation on the oud by Palestinian musician Ronnie Malley. Toward the end of the disc, radiant excerpts of Monteverdi's Vespers of 1610 burst forth from the choir as a nod to the influence of Jewish and Arabic sacred chanting on the late Renaissance composer's music. Programmed with real vision and beautifully performed, this is a mesmerising portrait of Old Jerusalem reimagined through sound."
– BBC MUSIC MAGAZINE, 2022

"Gripping immediacy… listen also for the mesmeric percussion in the table-grace song Tzur mishelo achalnu ('The Lord our rock'). … makes this recording shimmer. In the section 'Mosque, Cathedral & Synagogue', the positioning of the 'Gloria Patri' from Monteverdi's Vespers is particularly prescient: intertwining chants run like a thread through this section. In short, a timely, sumptuous and refreshing vision of peace for 2022."
– GRAMOPHONE MAGAZINE, 2022

"Sumptuous and exuberant… the playing is gutsy and colourful. Who'd have though this would be such a hit?"
– The Scotsman, Edinburgh, UK (5-star review)

"Jeannette Sorrell's latest concept album is an exuberant, uplifting examination of sacred and secular music drawn from the city's Jewish, Arab, Armenian and Christian quarters. Her booklet notes are a good read, putting Jerusalem's history and geography into context. The mixture of popular and serious material is brilliantly judged, and there's a wonderful sequence of instrumental numbers representing the Arab and Armenian areas.

Day Four [of Sorrell's 5-day musical tour of the city], called "Mosque, Cathedral and Synagogue," incorporates plainchant, a Muslim call to prayer and an excerpt from Monteverdi's Vespers, the musical connections made disarmingly clear. Day Five's is a multi-faith shindig containing the most joyous music I've heard all month. We can never know what these songs would have originally sounded like, but Sorrell's arrangements feel authentic and the performances, recorded in concert, crackle with life. Ouds, dulcimers and qanuns ring out, and the choral singing has plenty of oomph. A marvellous disc."
–– THE ARTS DESK.COM (London), 2022

"A voyage of faith for the 21st century… An ensemble at the peak of their powers, making vital statements about the world…"
– SEEN & HEARD INTERNATIONAL (LONdon)

"Sumptuous and exuberant… the playing is gutsy and colourful. Searing Sepharic chant and ballads, a soulful Armenian hymn and red-hot Turkish/Arabian Longha dance, to the sumptuous Catholicism of Monteverdi Vespers' extracts (illuminating the perceptible Middle-Eastern inspirations in his settings), and concluding with exuberant "party numbers" that imagine joint feasting by the various communities, the story is as much one of rich singular identities as shared cultural expression. Jeannette Sorrell directs a heady mix of performances, ranging from soulfully supplicant to lusty abandon. Who'd have thought this would be such a hit?"
– THE SCOTSMAN, Edinburgh (5-star review)

"A rich musical portrait of the Old City… extraordinarily varied in mood. Sometimes rumbustious, sometimes riven with tragedy. Sorrell is one of those idealistic souls like Jordi Savall who use their music-making to suggest that despite political and religious enmities, the peoples of East and West can find common ground in music… perhaps even learn to live together. Listening to this wonderful, inspiring CD one could almost believe it."
– THE DAILY TELEGRAPH, LONDON ("Best Cds of 2022 So Far")

"Fascinating… magnificently performed… sophisticated arrangements at a high level. This CD is a real treasure."
– Pizzicato Magazine, LUXEMBOURG