SIGN UP to receive the Music for the Soul videos by email.
Episodes #12 & 13:
The MONTEVERDI Vespers
Made possible by generous support from JEFF BARNETT
Apollo's Fire celebrates Monteverdi's masterpiece with a selection of videos from throughout the ensemble's long relationship with this piece.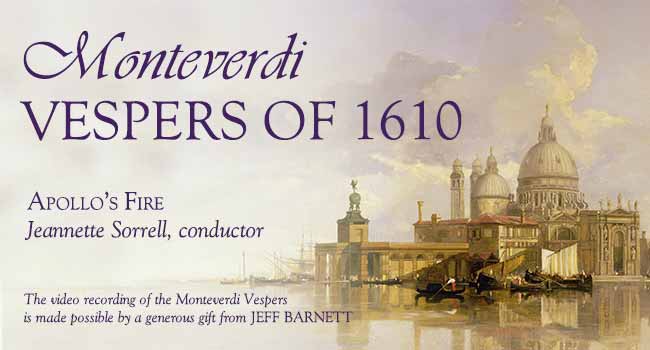 "Hugely gripping… a wholly exhilarating evening."
– SAN FRANCISCO CHRONICLE
Today's episode of "Music for the Soul" is an affectionate tribute to all of the wonderful musicians who have performed the Monteverdi Vespers with Apollo's Fire and Jeannette Sorrell over the years. This has long been a signature piece for AF, with nearly 30 performances in over 15 cities. This piece was AF's first CD recording and first Billboard Classical Top 10 hit. At times, Jeannette Sorrell has also woven parts of the piece into other programs, in order to introduce new audiences to this masterwork.
 
Here we offer a selection of movements from different concerts of the Vespers, in different venues. We have provided English subtitles so the text will come alive with immediacy.
 
Below is a link to the filmed performance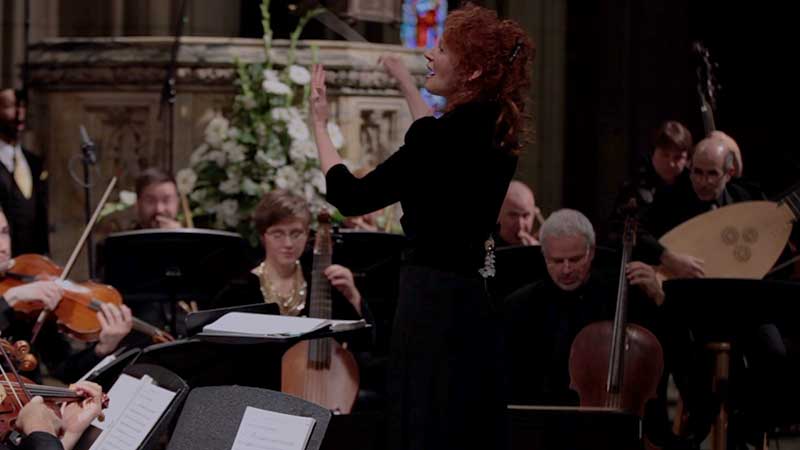 Monteverdi & Beethoven –
Two Giants Who Transformed Music
Jeannette Sorrell says that "Monteverdi was a giant, much like Beethoven. Both stood at the end of one era and on the cusp of a new one. While Beethoven pushed the limits of Classical style to lead to the Romantic, so Monteverdi forged the Baroque style out of the end of the Renaissance – through sheer force of will. The sense of struggle is palpable. And so is the triumph."
The Monteverdi Vespers was published in Venice in 1610, but may have been premiered in 1608 in Mantua, where a "solemn Vespers" was part of the royal wedding festivities that year. Royal guests had come from all over Europe for the occasion. Monteverdi, as Mantua's court composer, was surely asked to pull out all the stops. In our performance, we imagine the setting to be that royal wedding in 1608. And the splendor resounded….
FROM THE CRITICS
Apollo's Fire and the Monteverdi Vespers –
On Tour and on CD
"Wonderfully vivacious… and hugely gripping. Sorrell and her forces delivered it with superb energy and clarity to put the cap on a wholly exhilarating evening."
– SAN FRANCISCO CHRONICLE
"Sorrell and her fine young choir lavish attention on every phrase. The exhilaration and sense of discovery is utterly infectious."
– INTERNATIONAL RECORD REVIEW, UK (CD review)
"Resplendent… brilliantly motivated by Sorrell and performed with vibrant attention to dramatic detail. A thriller from first note to last."
– THE CLEVELAND PLAIN DEALER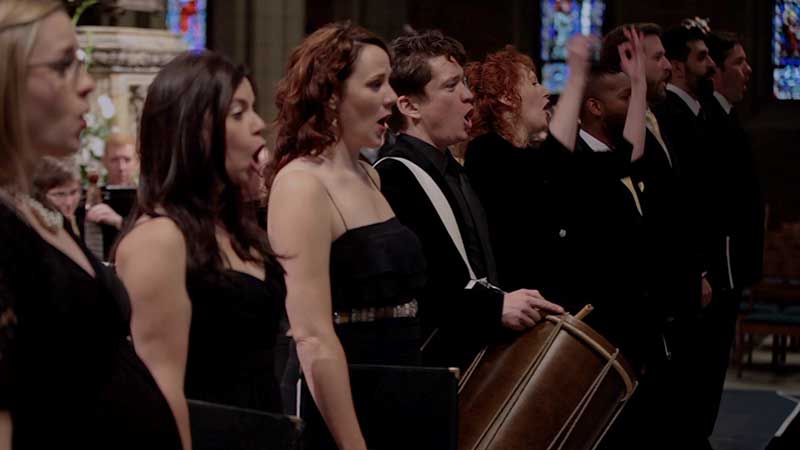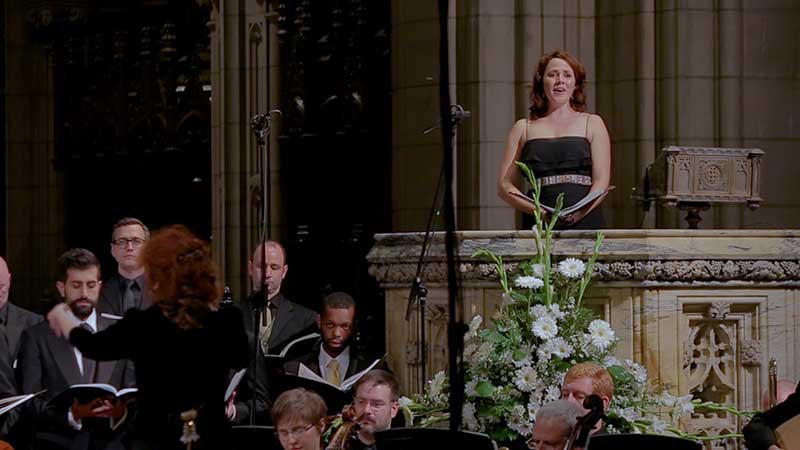 ---
The Mysteries of Monteverdi – by Jeannette Sorrell

---
The video recording of the Monteverdi Vespers is made possible by a generous gift from
JEFF BARNETT
---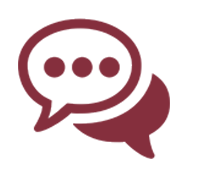 ---
---
CAN YOU HELP?
Apollo's Fire is providing this video series as a free gift to you. However, during the COVID shutdown we are losing hundreds of thousands of dollars in ticket revenue and touring fees. What's worse, our musicians have lost all of their work with ensembles around the country. But thanks to your donations, Apollo's Fire, unlike many other orchestras, has so far been able to pay our musicians $100,000 in partial fees for canceled concerts. We couldn't have done this without your support!
Please consider donating either to Apollo's Fire or to our Musicians' Fund.
You can also help us hit 5 million total views on YouTube by sharing these videos with your friends. We are so close!
To donate, email Angela Mortellaro or call 216.320.0012 x 6.*
*AF staff are working remotely. Please leave a voicemail and your call will be returned.
OR Donate ONLINE.
Thank you for supporting your baroque orchestra!
[divider]
[divider]
[divider]