GRAMMY® Winners Apollo's Fire & Jeannette Sorrell present
O Jerusalem! Crossroads of Three Faiths
Jeannette Sorrell,
program design & direction
Amanda Powell, Jeffrey Strauss, & Sorab Wadia,
vocal soloists
with
Daphna Mor,
winds
Zafer Tawil,
oud & qanoon
Jacob Perry,
tenor
Projected images designed by Camilla Tassi
"… The place where everything is music… and brothers and strangers are one."
Jalal al-Din Rumi, 13th-c. Persian poet
[button link="https://apollosfire.org/wp-content/uploads/2020/02/af1920_OJerusalem_pgmTextsNotes.pdf" bg_color="#43165e" target="_blank"]Repertoire & Program Notes[/button] [button link="https://apollosfire.org/jerusalem-tour/#videos" bg_color="#43165e" target="_blank"]Videos[/button]
Performed to full houses in New York (Metropolitan Museum of Art), Chicago, and Cleveland, "O Jerusalem!" is a colorful, uplifting, and timely program for our time – a loving exploration of the three peoples whose music and faith brought such vibrancy to the Middle East and the Mediterranean.
In this "tour" of the four quarters of Old Jerusalem (Jewish, Christian, Arab, and Armenian/Byzantine), surprising cross-influences emerge. A Sabbath prayer leads to a Sephardic ballad of a lover betrayed. Selections from Monteverdi's great Vespers of 1610 echo the exotic and rapturous singing of the Jewish cantors in the temples. The classical Arabic love song Lamma bada leads poignantly into the wild Longa Farahfaza – an instrumental romp.
The rhythms of daily life – love, singing, dancing and prayer – culminate in a joyous celebration of brotherhood and sisterhood.
At a time of ever-increasing tensions in the Middle East, 25 unique artists from Jewish, Palestinian, Muslim, and Christian backgrounds come together. The sounds of oud, theorbo, medieval harp, vielle, qanun, strings, wooden flutes, and exotic percussion join with human voices in a celebration of shared humanity.
Reviews
"'O Jerusalem!' was a sensory feast, a joyous celebration…"
– ClevelandClassical.com, 2020 [Read more]
"Theatrical dynamism… a fun and flirtatious triumph… The program showed Apollo's Fire energetic and compelling as ever. One can only hope that the world's health crisis will run its course quickly so that we can return these vital musicians to their needed role of illuminating the social and emotional connections of all humanity."
– Seen & Heard International, UK, 2020 [Read more]
"On period instruments, a voyage of faith for the 21st century… Apollo's Fire continues to challenge and enchant. The result borders upon a theatrical experience…. In classic Apollo's Fire manner, the entire evening was delivered with urgency, polish, and flair. To hear an ensemble at the peak of their powers, making vital statements about the world, is a privilege."
– Seen & Heard International, 2018 [Read more]
"Captivating… a ravishing musical landscape. A high level of artistry and passionate music-making… gorgeous and stylish. The concert flowed wonderfully from one musical universe to another… creating a communal atmosphere of celebration and worship. Sorrell should be proud of this enjoyable and unity-striving evening in a time when human divisions are regularly stoked to achieve dangerous ends."
– ClevelandClassical.com [Read more]
Listen to tracks from the CD!
Debuted at #2 on the Billboard World Music Chart and #7 on the Billboard Classical Chart
(February 2016)
"Best 10 Albums of the Year"
– CHICAGO TRIBUNE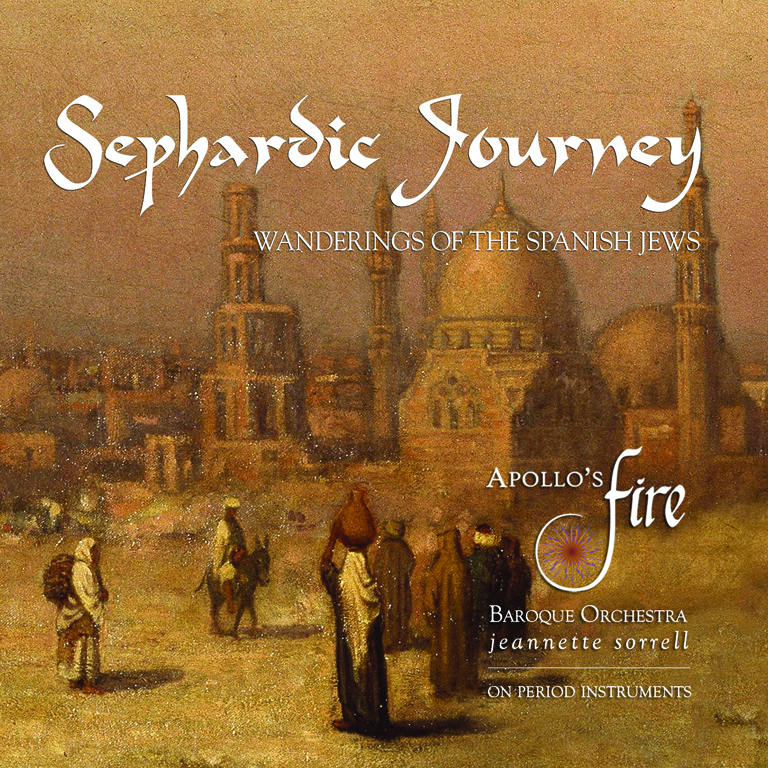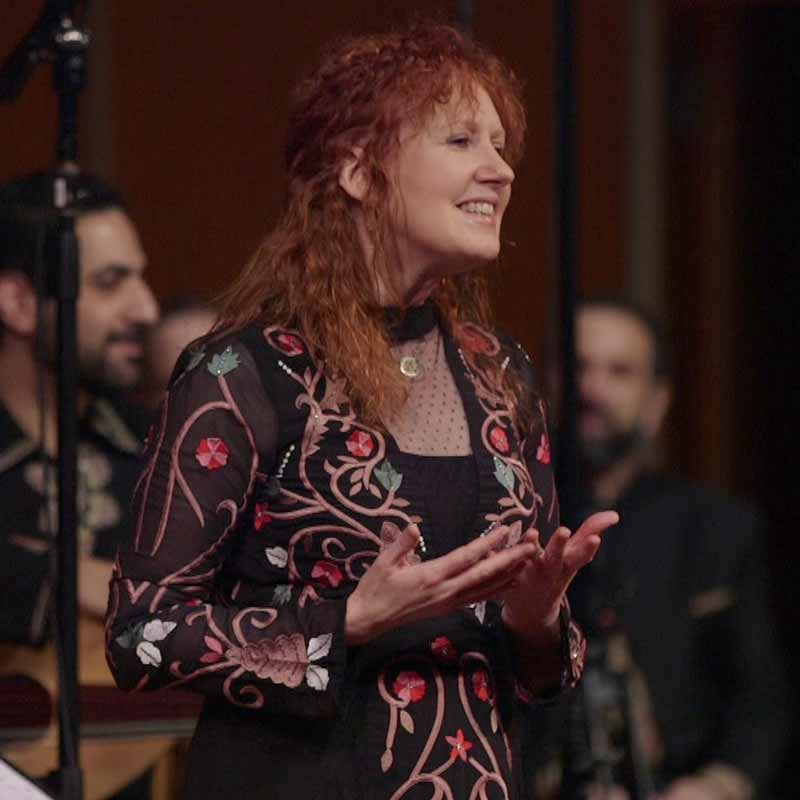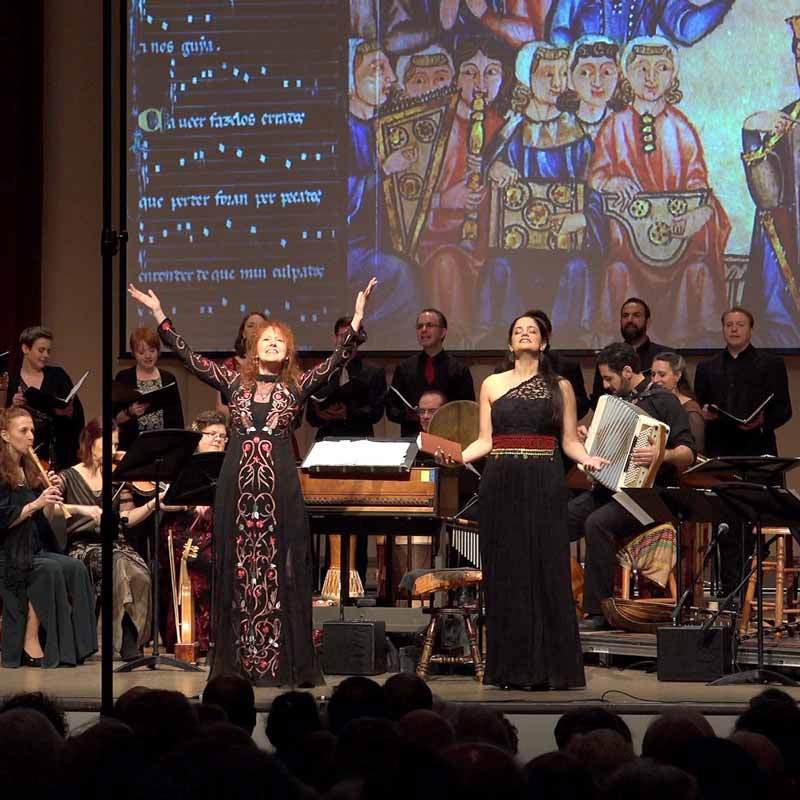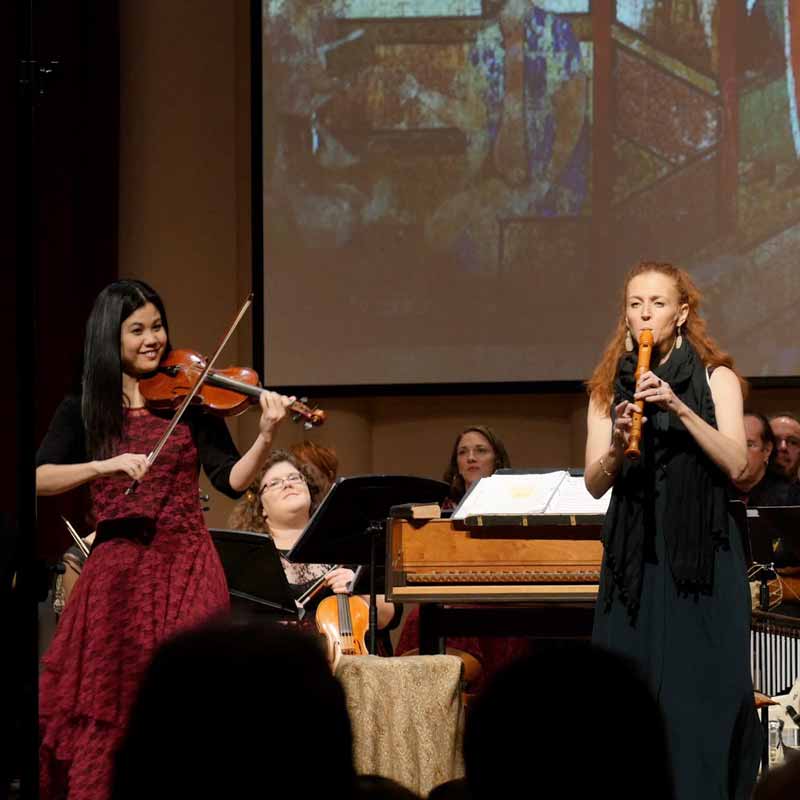 ---
---
Related: International Reviews of the "Sephardic Journey" CD Album
"Revelatory… convivially theatrical… The soloists and instrumentalists are first-class, and Sorrell's arrangements are full of zip and color."
–BBC Music Magazine [full review]
"Recommendable right off the bat… Sorrell combines music of several centuries in a convincing thematic way that has rarely been matched, whether dealing with Jewish music or some other tradition. This is something of a heartland American counterpart to the thematic albums of Jordi Savall, and it works remarkably well."
–AllMusic.com [full review]
"Another impressive disc from Apollo's Fire… energy, colour, atmosphere and, indeed, fire. Impressively wrought, full of wonderful Middle Eastern inflections… beautifully shaped and full of life… Vividly recorded, with excellent booklet notes by Jeannette Sorrell."
–The Classical Reviewer (UK) [full review]
---
[button link="https://apollosfire.org/touring/book-apollos-fire/" size="large" bg_color="#43165e" window="yes"]BOOK APOLLO'S FIRE[/button]