Bach's St. Matthew Passion
[box]Dear Apollo's Fire Friends & Patrons,
All of us at Apollo's Fire wish you peace and well-being during the Coronavirus pandemic. We are doing everything we can to ensure the health and safety of our cherished patrons, donors, staff and musicians. Governor DeWine's recent ban on all mass gatherings of 100 or more gives us clear direction.
It is with heavy hearts that we announce, in accordance with the Governor's ban, the cancellation of our performances of Bach's St. Matthew Passion in Rocky River, Cleveland (Severance Hall), and Akron on April 1, 3, and 4 respectively. Though this news is disappointing, we look forward to bringing you this inspiring concert in a future season.
We will honor your wishes regarding your tickets. Three options are listed below. However, please know that our beloved musicians and guest artists are freelancers who face total loss of income in the next two months or more. Unlike symphony players, the early music players of the U.S. are not on salary. Apollo's Fire is committed – with Passion. Period – to paying our musicians as much of their St. Matthew Passion fees as possible. However, the St. Matthew is one of the largest programs in our history, using over 65 musicians. We face over $170,000 in lost ticket revenue and touring fees due to cancellations this spring. It will be tough to help our musicians significantly, without your help.
Therefore, we humbly ask you to consider donating the cost of your tickets if you are able – so that we can pass the revenue along to our musicians (option 1).
TICKET OPTIONS:
DONATE your ticket so that we can pay our St. Matthew musicians as much as possible. We will send you a tax-deduction receipt.
EXCHANGE your tickets for a future Apollo's Fire concert during the 2020-21 season or a future season.
Receive a REFUND for the full value of the ticket. (Please let us know by April 30 if you choose this option.).
Our box office staff are standing by to fulfill your requests. Please email us at info@apollosfire.org or call 216-320-0012 x 1.
*NOTE: Our staff are working mostly remotely, but all voicemails and emails will be returned.
Just as Handel composed Messiah during a seasonal ban on opera performances, we wish to bring you musical inspiration during this pandemic shutdown. We hope you will enjoy our new "Music for the Soul" – a semi-weekly series of online programs featuring concert videos, interviews, and related reading – all for your pleasure at home. Click here.
Thank you for being part of the Apollo's Fire family, and we wish you health and inspiration.
Sincerely,
Jeannette Sorrell, Artistic Director
Howard Bender, Executive Director[/box]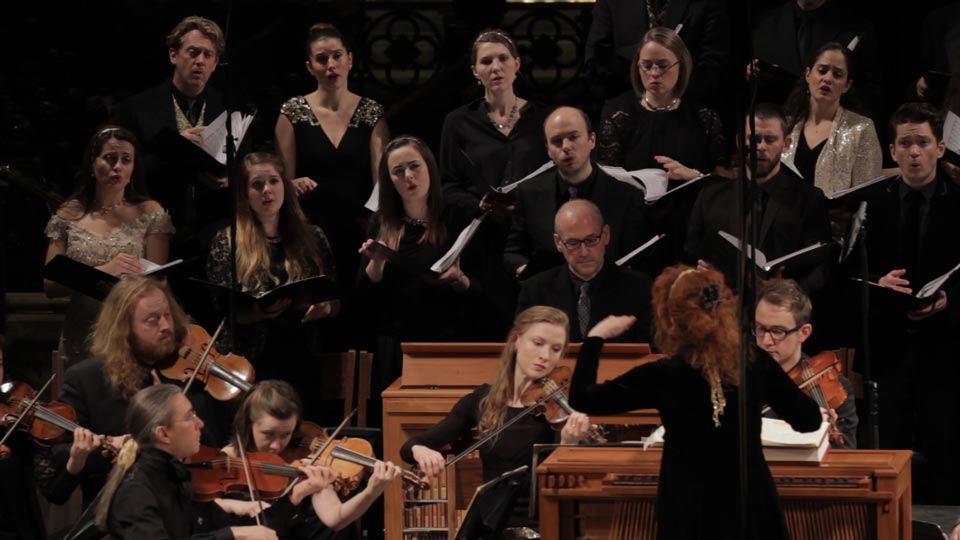 Bach's resplendent masterpiece is rarely performed live, due to the extraordinary forces required: 2 orchestras, 2 choirs, soloists, and children's choir. Jeannette Sorrell leads a dramatic presentation, with singers performing from memory in the character roles. Bach's resounding sense of community envelopes the performance as the audience joins in singing the chorales – just as Bach's congregation did nearly 300 years ago.
"Resplendent… the magnificent chorus [sang] to breathtaking effect."
– THE NEW YORK TIMES (review of Apollo's Fire's St. John Passion, 2016)
PRE-CONCERT TALK with Rabbi Roger Klein, 1 hour before each concert.
---
Hear the Music
Coming Soon!
---
Meet the Artists
---

Jeffrey Strauss,
Caiaphas (High Priest) – sponsored by Robert & Diane Walcott
Daniel Moody,
countertenor
These concerts are made possible by the generous support of
Paul M. Angell Family Foundation
and Drs. Jeanne & Gregory Sorrell.
Ecce Homo, early 1700s (oil on canvas) , Murillo, Bartolome Esteban (1618-82) (follower of) / The Heckscher Museum of Art, Huntington, NY, USA / August Heckscher Collection / Bridgeman Images