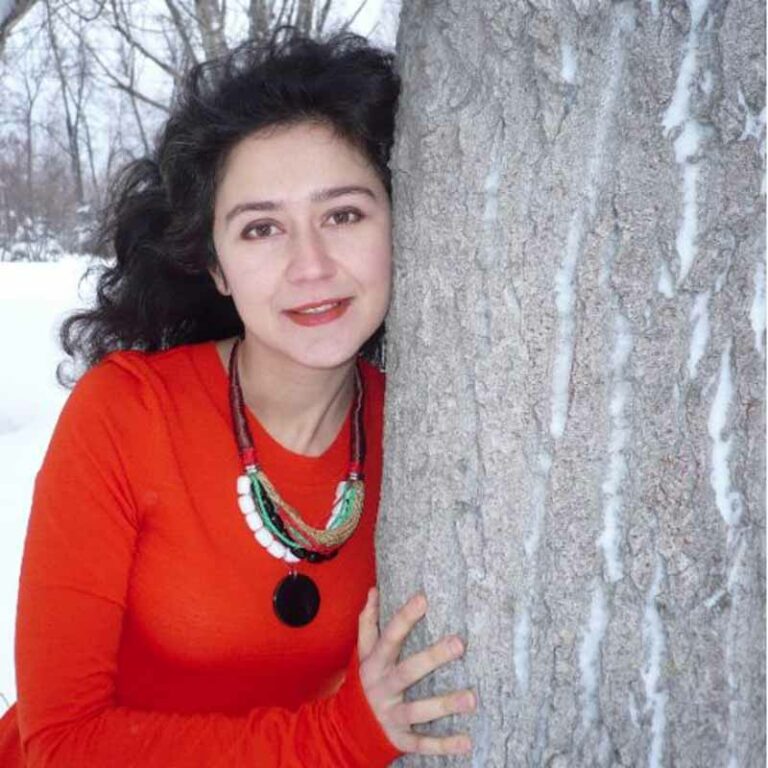 Polina Skovoroda Shepherd is an internationally renowned Yiddish and Russian singer. Praised for her "breathtaking vocals" (Musician Magazine), she performs the songs of the Shtetl and the Steppes with passion and haunting soul.
Born in Siberia, Polina learned music as a child from her grandfather, a button accordionist, and her mother, a singer. She soon became her mother's accompanist, playing at the dark theatres of Tatarstan to wildly responsive audiences.
Following her training at Kazan State Conservatory, she specialised in vocal techniques based on instrumental ornamentation and Yiddish and Russian folk songs. She joined Russia′s first klezmer band after Perestroika, and soon became the principal Yiddish choir leader of the former Soviet Union, touring internationally with her Quartet Ashkenazim (1991-2007).
Now based in the UK with her husband Merlin Shepherd, an internationally renowned Klezmer clarinetist, Polina is a member of the Merlin Shepherd Quartet who bring together the music of Jewish Eastern Europe, Greece and Turkey. The Merlin and Polina Shepherd Duo travel the world and have a reputation of 'the magical sound' on the Ashkenazi music scene. Their CD "A Blade of Grass" was released in 2012.
Polina serves as the Choir Director of the London Yiddish Choir, the London Russian Choir, and the award-winning Russian choir of Brighton & Hove. As an educator, she leads choral workshops internationally, using teaching methods based on specific East European sound, ornamentation, and modal experimentation with attention to stylistic details, history and context. For Jewish music workshops, she teaches Yiddish songs and Hasidic nigunim, the age-old songs without words.
Polina has served as Programme Director for the International Klezmer Music Festival in Moscow and the International Festival of Jewish Culture in Kazan, Russia. She is in demand as a Jewish song teacher at international Jewish events and festivals such as KlezKanada, Klezfest London, Klezmer Paris, Klezmer Moscow, Klezfest Kiev, Klezfest Lviv, and many others. She has lectured on Jewish music at the Centre of History and Culture of Jewish People, Kazan State University.