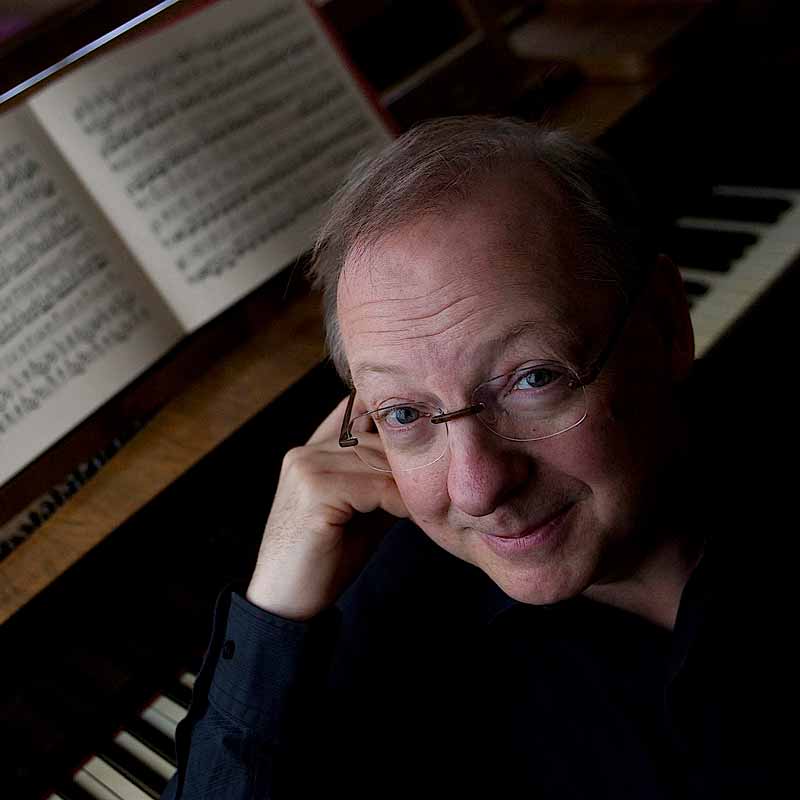 As he embarks on his sixth decade on the podium, Nic McGegan — long hailed as "one of the finest baroque conductors of his generation" (The Independent) and "an expert in 18th-century style" (The New Yorker) — is recognized for his probing and revelatory explorations of music of all periods. The 2019/20 season marked the final year of his 34 year tenure as Music Director of Philharmonia Baroque Orchestra and Chorale. He is Principal Guest Conductor of the Pasadena Symphony.
Best known as a baroque and classical specialist, McGegan's approach — intelligent, infused with joy and never dogmatic — has led to appearances with many of the world's major orchestras. Also at home in opera houses, McGegan shone new light on close to twenty Handel operas as the Artistic Director and conductor at the Göttingen Handel Festival for 20 years (1991-2001) and the Mozart canon as Principal Guest Conductor at Scottish Opera in the 1990s.
His guest-conducting appearances with major orchestras — including the New York, Los Angeles, and Hong Kong Philharmonics; the Chicago, Dallas, Milwaukee, Toronto, Sydney, and New Zealand Symphonies; the Philadelphia Orchestra; the Royal Northern Sinfonia and Scottish Chamber Orchestras; and the Amsterdam Concertgebouw — often feature Baroque repertoire alongside Classical, Romantic, 20th-century and even brand-new works. He has led performances of Mendelssohn, Sibelius, Britten, Bach and Handel with the Utah Symphony; Poulenc and Mozart with the City of Birmingham Symphony Orchestra; and the premiere of Stephen Hough's Missa Mirabilis with the Indianapolis Symphony Orchestra, paired with Haydn, Brahms and Mendelssohn.
One of Philharmonia Baroque Orchestra's greatest successes was the recent fully-staged, modern-day premiere of Jean-Philippe Rameau's 1745 opera-ballet Le Temple de la Gloire. A recording of the live performance was released in summer 2018, produced on the Philharmonia Baroque Productions label. Highlighting PBO's 2019/20 season is the world premiere of a new piece by Pulitzer Prize-winning composer Caroline Shaw, The Listeners, as well as a fully staged production of Leclair's Scylla et Glaucus. Major Handel works this season include Judas Maccabaeus and Aci, Galatea e Polifemo. McGegan also conducts a special program featuring violinist Alana Youssefian. As part of their initiative of performing new music written for period instruments, PBO gave the world premiere of Sally Beamish's The Judas Passion in 2017 and more recently presented a PBO-commissioned song cycle by Caroline Shaw featuring mezzo Anne Sofie von Otter at Alice Tully Hall.
McGegan's prolific discography includes more than 100 releases spanning five decades. Having recorded over 50 albums of Handel, McGegan has explored the depths of the composer's output with a dozen oratorios and close to twenty of his operas. Under its own label, Philharmonia Baroque Productions (PBP), Philharmonia has recently released acclaimed albums of Handel, Scarlatti, Vivaldi, Brahms, Haydn, Beethoven, and more. McGegan's latest release with PBO is Handel's rarely performed Joseph and his Brethren. His recordings with PBO have received two GRAMMY nominations: one in 1991 for Best Choral Performance (Other than Opera) for Handel's Susana; and one in 2012 for Best Orchestral Performance for Haydn's Symphonies 104, 88, and 101. The orchestra also received a Gramophone Award for Baroque Vocal in Handel's Susana.
Since the 1980s, Nic has released more than 20 recordings with Hungary's Capella Savaria on the Hungaroton label, including groundbreaking opera and oratorio recordings of repertoire by Handel, Monteverdi, Scarlatti, Telemann and Vivaldi. Recently, the collaboration has produced albums of Kraus, Mendelssohn, Schubert, a 2-CD set of the complete Mozart violin concerti, and Haydn's Symphonies 79, 80, and 81. McGegan has also released two albums with the Swedish Chamber Orchestra under the BIS label: Josef Mysliveček's Complete Music for Keyboard with soloist Clare Hammond and an album of early horn concertos with soloist Alec Frank-Gemmill.
Mr. McGegan is committed to the next generation of musicians, frequently conducting and coaching students in residencies and engagements at Yale University, the Juilliard School, Harvard University, the Colburn School, Aspen Music Festival and School, Sarasota Music Festival, and the Music Academy of the West. He has been awarded the honorary degree of Doctor of Music by the San Francisco Conservatory of Music; an honorary professorship at Georg-August University, Göttingen; and in 2016 was the Christoph Wolff Distinguished Visiting Scholar at Harvard. McGegan's fun and informative lectures have delighted audiences at Juilliard, Yale Center for British Arts, American Handel Society, and San Francisco Conservatory.
English-born, Nic McGegan was educated at Cambridge and Oxford. He was made an Officer of the Most Excellent Order of the British Empire (OBE) "for services to music overseas." Other awards include the Halle Handel Prize; the Order of Merit of the State of Lower Saxony (Germany); the Medal of Honour of the City of Göttingen, and a declaration of Nicholas McGegan Day, by the Mayor of San Francisco in recognition of his work with Philharmonia.