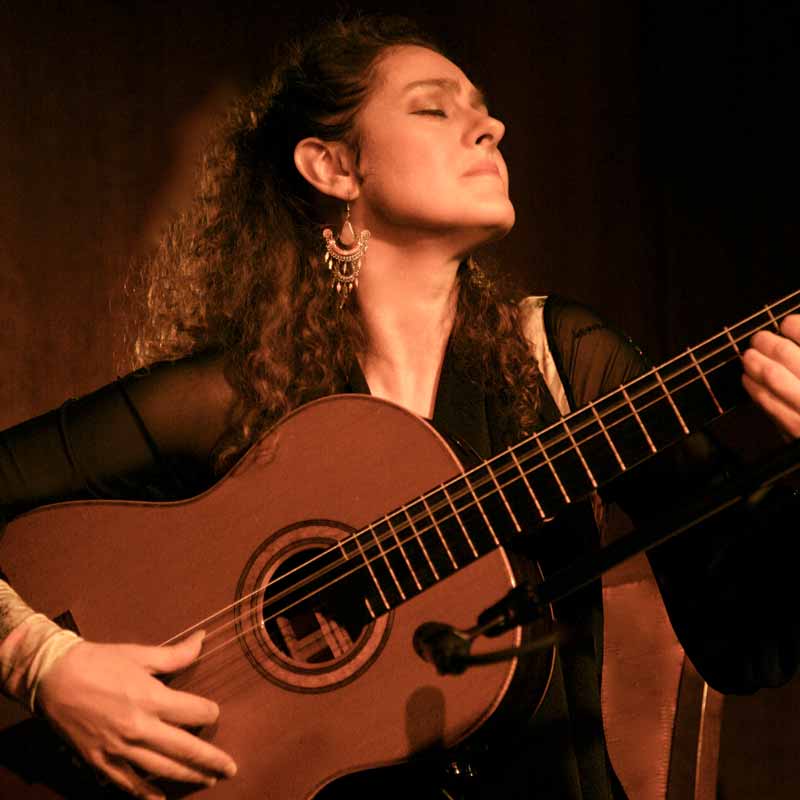 Marija Temo is a widely recognized classical and flamenco guitarist, flamenco vocalist, conductor, and composer. She performs as a soloist with symphony orchestras, in guitar concert series and festivals, and as a flamenco singer/guitar accompanist for dance.
Marija has performed extensively with highly acclaimed artists, and has received several awards. In addition to her versatile performance career, she is known for her teaching methods, educational programs, and workshops. Marija plays a "Marija Temo" Model flamenco/classical hybrid TM, which she designed with luthier Tom Rodriguez. She has also received the endorsement of D'Addario Strings.
In recent years, Marija Temo was a vocal competitor on La Voz US (the Spanish language version of the Voice) on NBC Telemundo and had a successful four chair turn for the first round of the competition. She was also a judge for The Guitar Foundation of America's International Guitar Festival and Competition. Temo was a selected artist for both the NY Guitar Festival "Tribute to Julian Bream" and the Radford University International Guitar Festival. She was also the musical director, composer, and arranger for "The Flamenco Nutcracker" directed by Kerensa DeMars.
Currently, Temo is Guitar Chair at the Wisconsin Conservatory of Music in Milwaukee. She is a former faculty member of the Preparatory of the Peabody Institute, Johns Hopkins University. She received her Masters degree from the Peabody Conservatory of Music, studying under Manuel Barrueco, and her Bachelors degree from the Baldwin-Wallace College Conservatory of Music. Temo, described as "one of the most powerful flamenco artists in North America' by the Calgary Sun is an outstanding performer and composer. "Her intelligence, natural intuitive ability combined with a passion and love of music places her among those exceptional interpreters of our time." -Soundboard, National Guitar Magazine, Guitar Foundation of America.