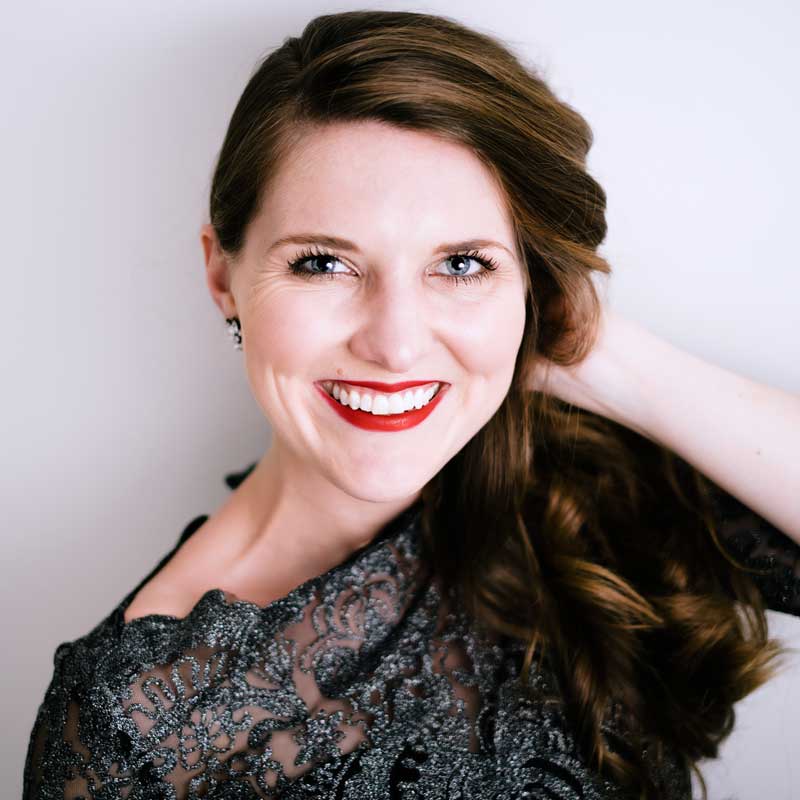 Praised as "fiery, wild, and dangerous" (Classical Voice North Carolina) with "a talent for character portrayal" (Chicago Classical Review), soprano Margaret Carpenter Haigh captivates audiences with her "flawless intonation" and "perfect vocalism" (CVNC). Commanding "expressive power, exquisite diction, and a clear, flexible voice" (Cleveland Classical), Margaret is in demand as a soloist and chamber musician throughout North America. Her dazzling technique and formidable skill as a collaborative artist shine in performances of repertoire spanning from the Renaissance and Baroque to the modern day.
Recent solo engagements include Handel Messiah with Memphis Symphony and Winston-Salem Symphony, Bach St. Matthew Passion with Bach Akademie Charlotte and Messiah Festival of the Arts, Bach B minor Mass with Bach Akademie Charlotte and American Bach Soloists Academy, Del Tredici's An Alice Symphony with Portland Symphony, Vaughan Williams Benedicite and Bach Jauchzet Gott with Arizona MusicFest, and Rutter Requiem with Evansville Philharmonic.
2019-2020 season highlights include appearances with Bach Akademie Charlotte, Handel and Haydn Society, The Choir of Trinity Wall Street, Newberry Consort, Alchymy Viols, GRAMMY©-winning Apollo's Fire, Baldwin Wallace Bach Festival, and a solo Canadian début with Scaramella, presenting original work on Baroque gesture and the Ferrarese concerto delle donne. With her own ensemble L'Académie du Roi Soleil she looks forward to performing Couperin's Leçons de Ténèbres, 16th-century Italian musica reservata in a program entitled "Secret Music 1580: Music for the Three Ladies of Ferrara," and one-voice-per-part program of Parry's Songs of Farewell and Howells' Take him, earth, for cherishing.
Margaret has been privileged to perform as a Britten-Pears Young Artist under Mark Padmore at the Aldeburgh Festival (UK) and at the American Bach Soloists Academy under Jeffrey Thomas (San Francisco, CA). Touring engagements have taken her to Israel, Germany, and France under the baton of Timothy Brown, and she has been featured as a soloist in the Easter at King's Concert Series in King's College Chapel, Cambridge.
As a choral conductor, Margaret was Artistic Director of Nova Voce, Charlotte's premier women's choral ensemble, from 2018-2020. She has served on the faculty of the Oklahoma Arts Institute in Quartz Mountain and the Bach Akademie Charlotte Vocal Fellows Program. She has previously served as Director of Youth Education Projects for Apollo's Fire: The Cleveland Baroque Orchestra and has also held positions as assistant chorus-master to the Winston-Salem Symphony Chorus and acting director of the Keele Bach Choir, Keele Philharmonic Choir, and Keele Philharmonic Orchestra in Staffordshire (UK); and she was selected as a conducting fellow at the Yale Norfolk Chamber Music Festival in Norfolk, CT.
A native of Charlotte, North Carolina, Margaret holds the D.M.A in Historical Performance Practice from Case Western Reserve University; the M.Mus in Choral Studies from the University of Cambridge, where she was a Gates Cambridge Scholar; and the B.M. in voice and B.A. in organ from the University of North Carolina at Greensboro. She has held faculty positions at the University of North Carolina at Charlotte, Bach Akademie Charlotte's Summer Festival, and Oklahoma Summer Arts Institute. Recent scholarship includes work on physical gesture in the madrigal repertoire of the concerto delle donne in late sixteenth-century Ferrara, and she frequently lectures on physical gesture for singers. Margaret lives in New York City and is a full-time member of The Choir of Trinity Wall Street.