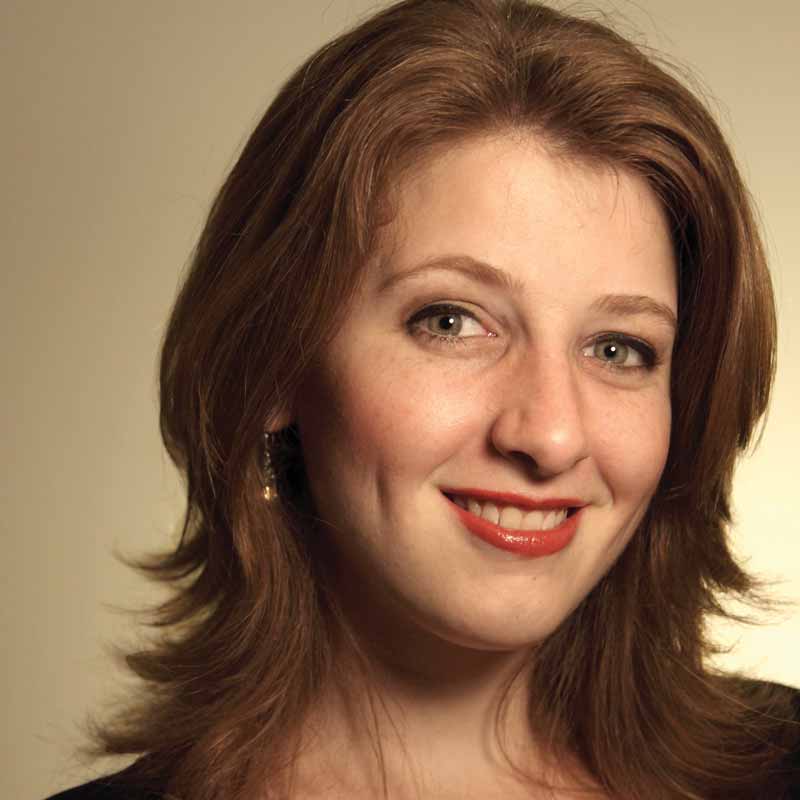 Known for her "soul-infused expressiveness and unselfconscious joie de vivre" (New York Music Daily), mezzo-soprano Elisa Sutherland is dedicated to detailed, stylistic interpretations of early and new music. This upcoming season, Elisa will appear as a soloist with TENET Vocal Artists in the role of "Conversation" in Charpentier's opera Les Plaisirs de Versailles, and with Apollo's Fire in a program of Buxtehude and Bach cantatas. She also will dance and sing in a new collaboration with New Chamber Ballet, and perform in the NY premiere of Daron Hagen's latest song cycle with Brooklyn Art Song Society.
Elisa sings frequently with the top ensembles of the United States, including The Crossing, TENET Vocal Artists, Roomful of Teeth, Seraphic Fire, and Clarion Choir. She has a special passion for one-on-a-part vocal chamber music, and is a core member of Ekmeles, a sextet dedicated to exploring microtonal tuning and extended techniques, and a co-founder of the early and new music sextet, Variant 6.
Elisa has appeared as a soloist with American Bach Soloists, Apollo Chorus of Chicago, and Quicksilver Baroque, singing Bach's Mass in b minor, Handel's Messiah, and Buxtehude's Membra Jesu Nostri. She was a soloist on The Crossing's GRAMMY-nominated album, "Boenhoffer," and has sung on two other GRAMMY®-winning records. Elisa has a special love for art song, and in addition to performing with her recital partner, pianist Wei-Han Wu, has sung with LyricFest, Philadelphia's premiere art song concert series, and Brooklyn Art Song Society.
In addition to winning the Philadelphia District of the Metropolitan Opera Auditions in 2015, Elisa is the 2014 winner of the Lynne Harvey Cooper Award, and was the first-place winner of the inaugural Handel Aria Competition at the Madison Early Music Festival in 2013. Recent opera roles include Hera in Chris Cerrone's All Wounds Bleed, Ensemble in Michael Gordon's Acquanetta with the Prototype Festival, Dido in Dido and Aeneas, Dorabella in Cosi fan tutte, Meg in Little Women, Ottavia in L'incoronazione di Poppea, and Nancy in Albert Herring. Elisa is also remembered for her Blazing Saddles – Madeline Kahn impression in a production of Die Fledermaus.
Elisa graduated from Northwestern University with a Bachelor of Arts in Creative Writing, a Bachelor of Music in Vocal Performance, and a Master of Music in Vocal Performance. She lives in Brooklyn.