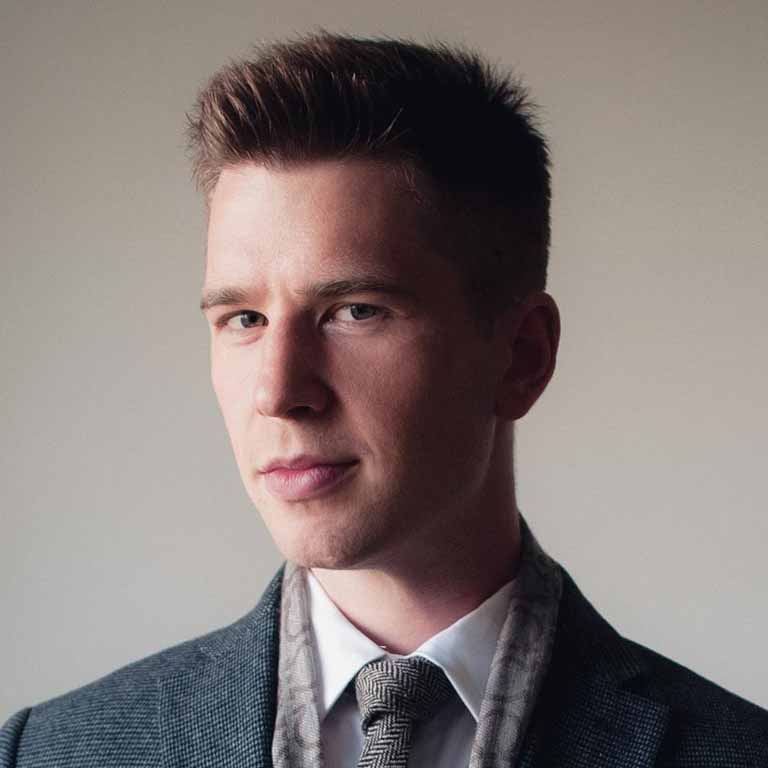 Countertenor Daniel Moody has garnered widespread acclaim for his "sweet and melancholy sound" (The Washington Post) and his ability to "pierce hearts" and "utterly silence a room" (The Boston Musical Intelligencer). Cited for a "vocal resonance, [that] makes a profoundly startling impression" (The New York Times) and for his "vivid and powerful" voice (The Boston Musical Intelligencer), Mr. Moody is equally celebrated for his interpretations of contemporary and baroque works.
Moody's opera appearances have included the title roles in Handel's Giulio Cesare and Rinaldo, Arsamene in Xerxes, Lichas in Hercules, Didymus in Theodora, Oberon in Britten's A Midsummer Night's Dream, L'Enfant in Ravel's L'enfant et les sortileges, and as the "eerie yet forceful" (Broadway World) leading role of Man #1 in the world premiere of Desire by composer Hannah Lash. Moody recently appeared as Nerone in Monteverdi's L'incoronazione di Poppea at Cincinnati Opera. American Record Guide raved about "how versatile (Moody) and his voice have become," and spoke of "numerous moments of utter beauty…where he would start singing ever so sweetly and then just let his voice blossom out into something big and round and smooth."
Moody's upcoming performances include debuts with Opera Lafayette (Venus and Adonis) and Minnesota Orchestra (Messiah), a tour of St. Matthew Passion with Apollo's Fire, Handel's Orlando at Staunton Festival and the premiere of Elena Ruehr's Cosmic Cowboy, to be performed in the fall of 2020 with White Snake Projects.
"Moody delivered a combination of tenderness and theatrical verve" (San Francisco Chronicle) in his recent duet concert with mezzo-soprano Anne Sofie von Otter and the Philharmonia Baroque Orchestra (Nicholas McGegan), and his performance of the title role in Handel's Rinaldo led the San Diego Story to declare, "Moody's voice grows stronger and brighter as it ascends. He may help create a new operatic vocal category: Helden Countertenor." Daniel has also performed roles in Mark Morris' productions of Britten's Curlew River and Purcell's Dido and Aeneas at BAM (Howard Gilman Opera House) and at the Tanglewood Music Festival where the Financial Times noted his "inspired and absorbing performances."
Moody recently made his Carnegie Hall Stern Auditorium debut with Oratorio Society of New York and also with Musica Sacra (Kent Tritle), and has performed as soloist with the Atlanta Symphony (Thomas Søndergård conducting), Les Violons du Roy in Québec City, (Bernard Labadie), Apollo's Fire, The Cleveland Baroque Orchestra (Jeannette Sorrell), the Portland Baroque Orchestra (David Hill), and symphonies of Illinois, Charleston (Ken Lam), and Winston-Salem (Robert Moody). He gave the American premiere of George Benjamin's intricate Dream of the Song (Stefan Asbury) at the Festival of Contemporary Music at Tanglewood Festival. He has also appeared with numerous early music groups including Boston, Indianapolis and Washington Early Music Festivals, renowned group Acronym at the Isabella Stewart Gardner Museum in Boston, Baroque Chamber Orchestra of Colorado, Mountainside Baroque (Maryland) and La Fiocco (Pennsylvania).