2022-2023 Subscriptions and Single Tickets are on sale now.
The best seats go fast!
---
How to Order:
SUBSCRIPTIONS – 3 easy ways to subscribe:
Online – use our Online Subscription Forms:
Ohio | Chicago | Worldwide (Virtual)
Phone – Call the AF box office at 216.320.0012 x 1 or 800.314.2535 x 1 to place your order. Our friendly staff are happy to take your call!
Paper – Download the order form, print it, fill it out:
Ohio Subscription Form | Chicago Subscription Form


Then mail it back to us at: Apollo's Fire, 3091 Mayfield Road, Suite 217, Cleveland Heights, OH 44118
SINGLE TICKETS:
---
Single Ticket Pricing – Ohio & Chicago
*WEEKNIGHT DISCOUNT – Subtract $2 per ticket for concerts Monday through Thursday! (not applicable to student tickets or subscriptions)
Seniors over 65 and Young Adults under 40 are eligible for the Senior/YA discount.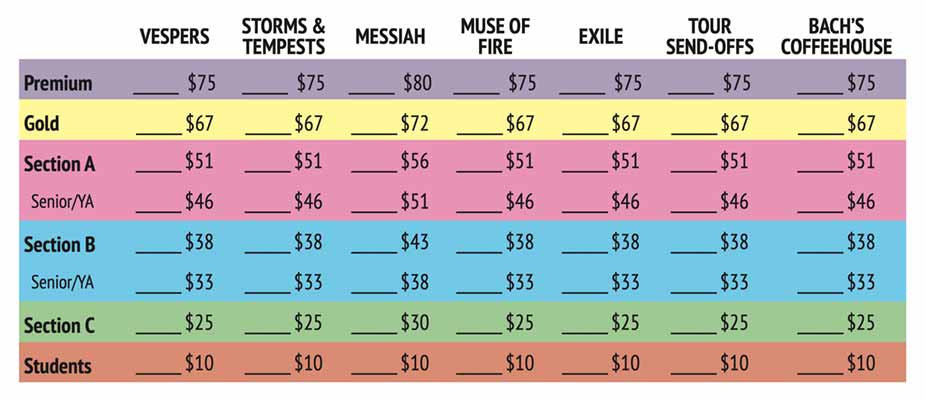 Watch-at-Home Tickets (Online Video)
During 2022-2023, 3 concerts will be available virtually. All ticket-buyers (virtual and in-person) will receive a link to watch the online video at home, 3 weeks after the final live performance of the program. If you purchase a Premium, Gold, Section A, or Section B ticket and choose to exchange it for a virtual ticket, you will receive a tax-deductible donation receipt for the difference between the price paid and a Section C ticket.
Worldwide Watch-at-Home audiences can purchase single-concert Watch-at-Home tickets for $20 per screen, or can save by subscribing. Click here for pricing and details.
The online video will be available for 30 days after activation. Watch it as many times as you like!
Seating Details
Seating at all venues is assigned. Ushers will direct you to your seats. Please contact the Box Office if you have questions regarding accessibility or have special requests for assistance.
Senior, Students, and Young Adult Discounts
Discounted tickets for Seniors (age 65+) and Young Adults (under age 40) are available in price sections A and B. Young Adult tickets will be held at the door; please present a valid driver's license. Reserved seating for Full-Time Students under age 30 is available for $10 in Section B & C.
Student Rush Tickets
A limited number FREE Student Rush tickets will be available this year in-person and virtually (in-person rush tickets are contingent on availability). Please email info@apollosfire.org for more information.
$12 Presto Seats
Presto seats are available for in-person AND to Watch-at-Home.
Presto Seats go on sale beginning three weeks prior to each concert – ORDER EARLY! Tickets may only be purchased by calling the Box Office at 216.320.0012 x 1. Patrons are limited to two (2) in-person Presto Seats per purchase, or one (1) Presto Seat link per event. All sales are final, and Presto Seats may not be exchanged.
Group Discounts
Group discounts are available in price sections B and C and may be purchased by contacting the Box Office. Groups of 10-19 patrons will receive a 10% discount and groups of 20 patrons or more will receive a 20% discount off of the regular ticket price.
Exchanges
Tickets (other than Presto Seats) may be exchanged for other performances in the 2022-2023 subscription series. The box office will charge a $2 per ticket exchange fee as well as the balance for ticket(s) to a more expensive performance, if applicable. Subscribers receive free exchange privileges. All exchanges must be received in the box office no later than 48 hours before the event. For information about the "At Home" exchange options, please see the "Watch-at-Home" section above.
Ticket Donations
If you cannot use your tickets, you may receive acknowledgment for a tax-deductible donation for the value of the tickets. Donated tickets must be returned to the box office at least 48 hours prior to the performance. Ticket purchases are non-refundable.
All programs and artists are subject to change.
---
If you have ANY questions or concerns that aren't answered here, please feel free to email or call us and we will do our very best to help! 216.320.0012 x 1 / 800.314.2535 x 1.