Apollo's Musettes Ensemble – Treble Youth Choir
Talented young singers, age 10-17, are chosen by audition for their clear, pure voices and outstanding musicianship. The ensemble rehearses on a project basis under the direction of Apollo's Fire artists. The Musettes ensemble performs under the direction of Jeannette Sorrell with the professional musicians of Apollo's Fire in programs where children's voices are appropriate for the repertoire. Singers chosen for solos receive individual coaching from Ms. Sorrell.
Since its founding in 2005, the Musettes Ensemble has performed in nearly 30 concerts with Apollo's Fire, including Purcell's Dido & Aeneas and Vivaldi's Gloria. The Musettes also appear on AF's acclaimed CD recording of the Christmas Vespers by Michael Praetorius and have been heard across the country on national radio broadcasts of that program.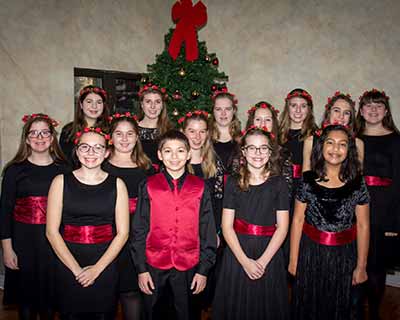 "Apollo's Fire has inspired me with a love for baroque music that I don't think I could have found any other way. I've loved being surrounded by amazing artists who I learn from and look up to."
NORA VON DER HEYDT
"Being a part of the Apollo's Musettes for the past 2 years has been such an amazing experience. I have learned so much and being a Musette has not only allowed me to expand on my passion for music, but also to grow as a singer and ensemble member!"
CAROLINE CANNON
"I first got to sing with Apollo's Fire when I was 16, and the experience opened up new horizons for me. It inspired me to pursue a career in music."
MADELINE HEALEY
---
Auditions
For treble voices age 10-17
If you are interested in auditioning for the Musettes, please email Edward Vogel.
---
Watch Video
AF's Musettes in The Wassail Scene from
"Christmas on Sugarloaf Mountain" – An Irish-Appalachian Celebration
Three traditional wassails, arranged by Jeannette Sorrell
Yorkshire Wassail – Somerset Wassail – Kentucky Wassail
AF's Musettes performing the world premiere of René Schiffer's "Figli di Dio" (Children of God) with Apollo's Fire, November 2016
Come my brothers, come my sisters, let us sing as the children of God!
Black and white and brown and yellow, each will rejoice with our song of love.
---
Recent Musette Performances
2021-2022
The Musettes joined a celebrated reprise of 2021's Lift Ev'ry Voice program, appearing at Arlington Church of God, Avon Lake UCC, and Cain Park in Cleveland Heights. The Cain Park performance, which featured Apollo's Fire, Jeannette Sorrell, Reggie Mobley, Jonathan Woody, and Ashlee Foreman, was recorded for Apollo's Fire's acclaimed Watch-at-Home series.
2020-2021
In the 2020-2021 Season, Musettes took part in a 6-week virtual series in which they prepared early music carols for virtual YouTube release during the holidays. Here is sample performance of the Praetorius: Quem Pastores (The Shepherds & Angels Sing Praises).
Most recently, the Musettes joined Apollo's Fire, Jeannette Sorrell, Reggie Mobley, Jonathan Woody, and Ashlee Foreman in the MOSAIC concerts Lift Every Voice in May 2021.
2019-2020
In November/December 2020, the Musettes sang in a 6-week project called "Ancient Carols from Around the World," under the guidance of guest director Tim Parsons and Artistic Director Jeannette Sorrell. The 3 videos from the project can be seen here.
In December 2019, the Musettes sang in 5 concerts of J.S. Bach's Christmas Oratorio with the Apollo's Fire and guest conductor Julian Wachner.
2018-2019
Back by popular demand, the Musettes once again performed in Jeannette Sorrell's Christmas on Sugarloaf Mountain. Our talented young singers sang beautiful Christmas carols, shape-note hymns and even danced up the aisles and on stage! The concert tour finished with a sold-out crowd at New York City's Metropolitan Museum of Art.
"Christmas Morning in Appalachia" introduces the conceit of a country church service, and centers around the energetic vocals of the young Apollo's Musettes. Michael Temesi, treble soloist, sang with purity of tone and warm innocence in "Jesus Born in Beth'ny,"
– Brian Taylor, Cadenza (New York City)
2017-2018
The Musettes premiered Jeannette's Sorrell's newest cross-over program, Christmas on Sugarloaf Mountain to great acclaim. Alongside their work onstage, they were an integral part of the recording process for the album that was released for Christmas 2018.
"Bringing holiday sensations of reverence and innocence are Apollo's Singers, and the young voices of Apollo's Musettes. The ensemble between the orchestra and singers is quite impressive. Even those few grinchy listeners who claim to dislike Christmas music, must appreciate the musicality and technical precision that are brought to each track."
– Hannah Schoep, ClevelandClassical.com
Later that year, The Musettes donned flower garlands and beautiful sashes to sing at the Apollo's Fire Tudor Banquet Gala. The evening's concert began with the Musettes serenading the audience and leading them into the concert hall in the Tudor Arms Hotel ballroom.
2016-2017
In 2016-2017, the Musettes were heralded as "admirably disciplined" (ClevelandClassical.com), as they sang with the orchestra in sold-out performances of the Love in Venice subscription concerts in November. In the spring, the Musettes were featured in Pergolesi's Stabat Mater in two concerts with AF's Young Artist Apprentices, presented in Cleveland Heights and Hudson.
2015-2016
In the 2015-16 season, 12 Musettes won the hearts of AF audiences in sold-out performances of Jeannette Sorrell's beloved holiday program, Praetorius Christmas Vespers. In addition, this year saw AF's commercial CD recording of that program re-released internationally, in celebration of the 10th anniversary of the initial release. The album features the original Musettes (soloists and ensemble) who performed in the premiere concerts. Several of these "Musette alums," who are now graduate students pursuing musical careers, returned to Cleveland and attended the performances. The re-release of the album attracted glowing reviews from the NEW YORK TIMES and GRAMOPHONE, both commenting on the "delightful" homespun charm of the children's voices.
[divider]