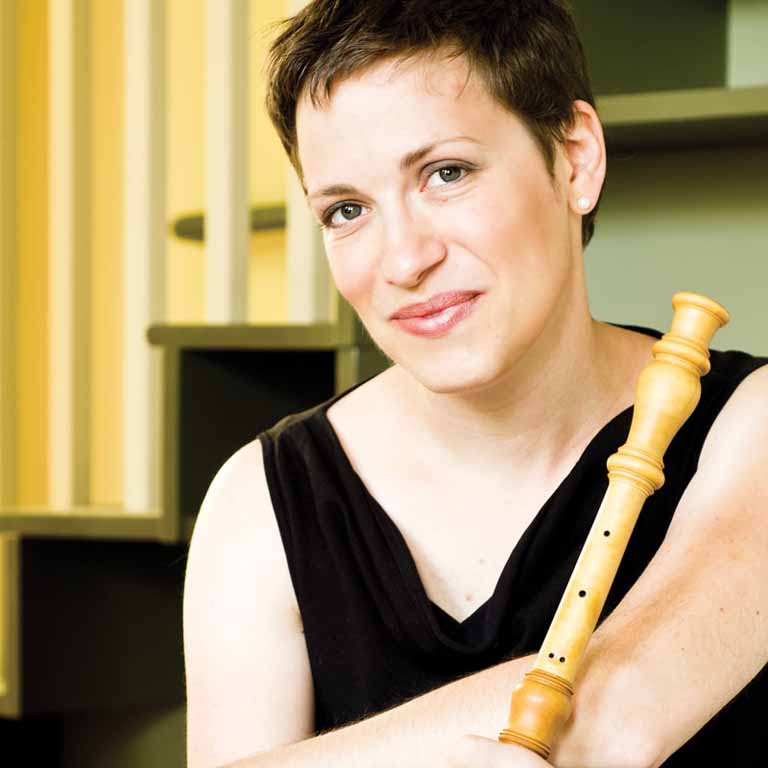 Praised for her "dazzling technique and soulful expressiveness," (Rocky Mountain News), and a musical approach that's "distinctly sensual…pliant, warm, and sweet," (New York Times), Debra Nagy is one of North America's leading performers on the baroque oboe. She is principal oboe with Boston's Handel & Haydn Society and performs with ensembles around the country including the American Bach Soloists, Apollo's Fire, Boston Early Music Festival, and others. Passionate about chamber music, Debra is the founder/director of Les Délices (whose debut recording was named "One of the Top Ten Early Music Discoveries of 2009") and also performs late-medieval music as a regular guest with Boston's acclaimed Blue Heron and Chicago's Newberry Consort. Debra has received many awards for her creative and scholarly pursuits including first-prize in the American Bach Soloists Young Artists Competition, a 2009 Fellowship from the National Endowment for the Humanities, and a 2010 Creative Workforce Fellowship from Cuyahoga Arts & Culture. She has recorded over 30 CDs with repertoire ranging from 1300-1800 and has had live performances featured on the radio across the U.S., Canada, and in Europe.
Debra's passion for unearthing little-known masterpieces caused the New York Times to dub Les Délices "an early music group with an avant-garde appetite," adding, "concerts and CDs by Les Délices are journeys of discovery." Inspired by a creative process that brings together research, composition in historical styles, improvisation, and artistic collaboration, highlights of Debra's recent projects have included critically-acclaimed multimedia productions of Machaut's medieval masterpiece Remede de Fortune and music from the recently-discovered Leuven Songbook (c. 1470). Her Baroque-Jazz crossover program, Songs without Words ('successful, risk-taking music!" – The Whole Note) has not only expanded the repertoire for her instrument but also challenged accepted notions about period instruments (CD released by Navona Recordings, 2018). She eagerly anticipates the premiere performances of The White Cat, a fairytale-based pastiche Baroque opera for singers and chamber ensemble with puppetry and projections that brings to life Aesop's Fables and Marie-Catherine D'Aulnoy's 1690s feminist fairytale in April 2022 (postponed from April 2020 due to the Covid crisis).
Recent social unrest and the restrictions of the COVID-19 Pandemic have inspired several new projects. Debra reimagined Les Délices' traditional concert series for the virtual space and safely recorded 6 different programs for broadcast during their 2020-21 season. One reviewer described the first program as, "in a word: sensational!" and another recognized "[Les Délices] raises the bar for streaming events that have fairly taken over since the pandemic halted live performing arts. At a most challenging time Les Délices embarks on a creative adventure to extend its audience beyond their in-person performances rather than an alternative to them. The modest ticket price is a cultural gift."
At the same time, Debra created a bi-weekly web series variety show for early music called SalonEra. A salon experience for the 21st century, SalonEra stays timely and relevant in introducing a wide range of artists and performing traditions. Produced remotely, SalonEra brings together regular contributors and special guests whose personalities, perspectives, and contributions set the stage for fascinating conversations and fulfilling artistic exchange. Unlimited by geography or program conventions, SalonEra has attracted a wide audience and enables her to dramatically expand the range of repertoire and artists that Les Délices presents. Importantly, the program also provides paid work for performing artists whose livelihoods have been deeply impacted by the pandemic.
A dedicated and inspiring teacher, Debra serves on the artist faculties of the American Bach Soloists' Summer Academy and the Oregon Bach Festival's Berwick Academy, and has given masterclasses at Juilliard, the Cleveland Institute of Music, San Francisco Conservatory, Cincinnati Conservatory, and University of Washington. She is also committed to service and to fostering the next generation of leaders through her work as a mentor and as a former board member of Early Music America and liaison to its Youth Advisory Board.
When not rehearsing, performing, or dreaming up new projects, Debra cooks prodigiously (including much canning and pickling) and loves commuting by bicycle from her home in Cleveland's historic Ohio City neighborhood.