Three Duels and a Wedding
Bach's Double-Concertos & Wedding Cantata
February 8

–

February 11, 2018

Renowned soprano Amanda Forsythe, now a Billboard Classical best-selling artist, joins the Apollo's Fire orchestra and featured instrumental soloists.
TELEMANN
Concerto in E minor for Flute & Violin, TWV 52:e3
Olivier Brault, violin | Kathie Stewart, traverso
J.S. BACH
Wedding Cantata, BWV 202
Amanda Forsythe, soprano
BACH
Brandenburg Concerto no. 6
Karina Schmitz & Kristen Linfante, viola
BACH
Concerto for Violin & Oboe
Johanna Novom, violin | Debra Nagy, oboe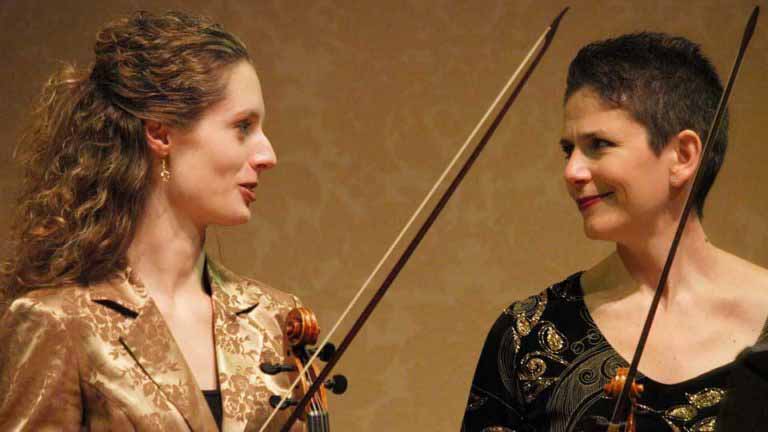 Viola Duo Tackles
Brandenburg Concerto No. 6
Read the Interview
PRE-CONCERT TALK by Professor Thomas Forrest Kelly of Harvard University, one hour before each performance.


*SATURDAY NIGHT: Sample delicious German wedding cake and sparkling cider… and who will catch the bride's bouquet? FREE!

These concerts are generously sponsored by Mrs. David Seidenfeld

SUNDAY, FEBRUARY 4, 12:30pm – Nighttown Restaurant, CLEVELAND HEIGHTS
J.S. Bach the Rebel (click here for details)
Thursday, February 8, 2018, 7:30PM
First United Methodist Church, AKRON
Friday, February 9, 2018, 8:00PM
St. Paul's Episcopal Church, CLEVELAND HEIGHTS
Saturday, February 10, 2018, 8:00PM
The Temple-Tifereth Israel, BEACHWOOD
FREE Afterglow!
Sunday, February 11, 2018, 4:00PM
ROCKY RIVER Presbyterian Church
Karina Schmitz & Kristen Linfante,
viola
Olivier Brault & Johanna Novom,
violin
Wedding at castle, 1789, print by Louis-Philibert Debucourt (1755-1832), France, 18th century / Musee Maurice Ravel, Montfort-L'Amaury, France / De Agostini Picture Library / G. Dagli Orti / Bridgeman Images