Magnificent MOZART
Jeannette Sorrell,
conducting
Susanna Perry Gilmore,
violin soloist
Stephanie Corwin,
bassoon soloist
Ezra Seltzer,
cello soloist
Friday, October 12, 2018, 8:00PM
CLEVELAND Museum of Art (Gartner Auditorium)
Saturday, October 13, 2018, 8:00PM
First United Methodist Church, AKRON
Sunday, October 14, 2018, 4:00PM
CLEVELAND Institute of Music (Kulas Hall)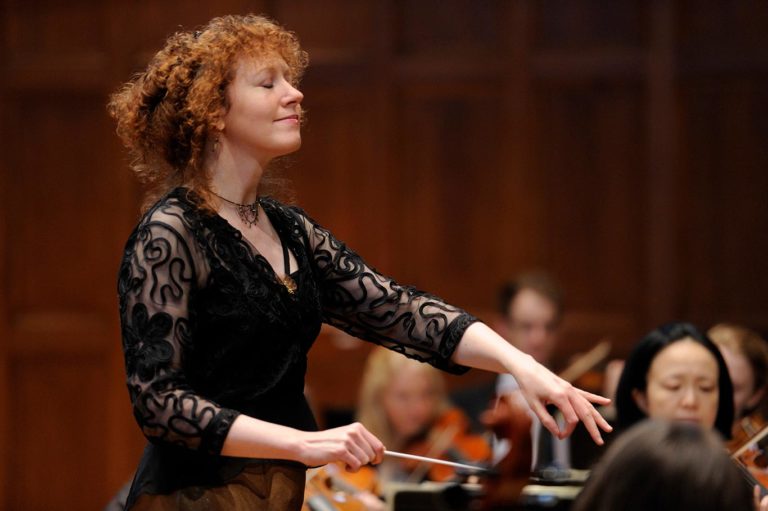 Read the interview!
"Apollo's Fire at the Cleveland Museum of Art – Where Art and Music Meet"
An Interview with Conductor Jeannette Sorrell
MOZART
Overture to
La Finta Semplice
MOZART
Symphony no. 40 in G Minor
HAYDN
Concertante in B-flat Major (1st mvt.)
MOZART
Ballet Music from
Idomeneo
A rare chance to hear Mozart's symphonic splendor with the sparkling clarity of period instruments. From the lighthearted overture and the stormy Symphony no. 40, to the exhilarating Ballet Music – 35 virtuoso musicians bring AF's signature energy and passion to these classical masterpieces.
"Enormous drama, delicacy, and zest… brimming with nervous energy. Sorrell takes full advantage of her superb instrumentalists."
–The Plain Dealer (CD review of Mozart Symphony no. 40)

These concerts are generously sponsored by
Karen & Richard Spector
Hear the Music
Watch Video
Meet the Artists
Concert given by Cardinal de La Rochefoucauld at the Argentina Theatre in Rome, 1747 (oil on canvas), Pannini or Panini, Giovanni Paolo (1691/2-1765) / Louvre, Paris, France / Bridgeman Images